This article will take you on a journey to the beautiful coastal town of Positano, where luxury travel and the sweet life of La Dolce Vita come together. Get ready to explore the best restaurants, indulge in local cuisine, and experience the top luxury experiences this enchanting destination has to offer. So, buckle up and let's dive into the world of luxury travel in Positano!
Introduction to Positano as a luxury travel destination
Welcome to Positano, the jewel of the Amalfi Coast in Italy! With its breathtaking views, charming streets, and luxurious accommodations, Positano has long been a favorite destination for luxury travelers. This picturesque town is known for its vibrant colors, cascading cliffs, and glamorous lifestyle. From the moment you arrive, you'll be captivated by the beauty and elegance that surrounds you.
The allure of Positano's La Dolce Vita
Positano is not just a place; it's a lifestyle. The Italian concept of "La Dolce Vita" perfectly encapsulates the allure of this town. It's about savoring the small moments, indulging in delicious food and wine, and embracing the joy of living. In Positano, you'll find yourself immersed in a world where relaxation and luxury go hand in hand. Whether you're lounging on the beach, exploring the cobblestone streets, or dining at a Michelin-starred restaurant, you'll feel like you've stepped into a dream.
Luxury travel trends in Positano
Positano has become a hotspot for luxury travelers from around the world, and it's easy to see why. The town offers a wide range of upscale accommodations, from boutique hotels to lavish villas overlooking the sea. Luxury travelers are seeking unique experiences, and Positano delivers. Whether it's a private boat tour along the coast, a helicopter ride to the nearby island of Capri, or a personalized shopping experience in the town's stylish boutiques, Positano has something to satisfy every luxury traveler's desires.
Exploring the best restaurants in Positano
One of the highlights of any luxury travel experience in Positano is the incredible dining scene. The town is home to some of the best restaurants in Italy, where you can indulge in exquisite cuisine while enjoying breathtaking views. From traditional Italian fare to international fusion dishes, Positano's restaurants offer a culinary journey like no other. Whether you're in the mood for freshly caught seafood, handmade pasta, or mouthwatering desserts, you'll find it all in Positano.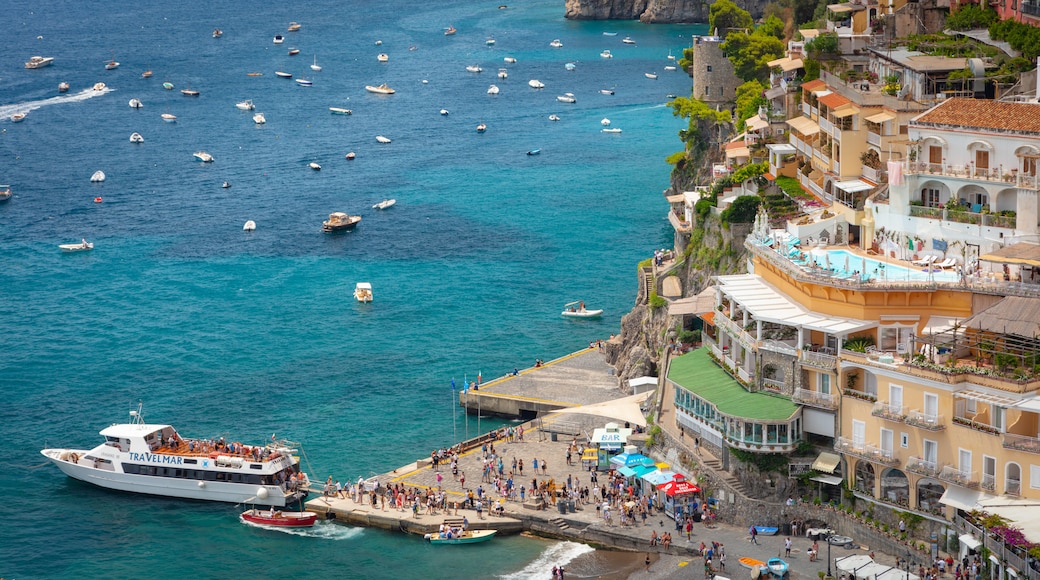 The top luxury experiences in Positano
In addition to its delectable dining options, Positano offers a range of luxury experiences that will leave you with unforgettable memories. Take a leisurely stroll along the beach promenade, where you can shop for high-end fashion and jewelry. Treat yourself to a spa day at one of the town's luxurious wellness centers, where you can rejuvenate your body and mind. For the adventurous, embark on a private yacht excursion to explore the hidden coves and pristine waters of the Amalfi Coast. No matter how you choose to spend your time in Positano, you'll be surrounded by beauty and luxury at every turn.
Indulging in the local cuisine: Pizza in Positano
When in Positano, indulging in the local cuisine is a must. And what better way to do so than by trying the famous pizza? Positano is known for its delicious wood-fired pizzas, made with fresh ingredients and cooked to perfection. Whether you prefer a classic Margherita or a gourmet seafood pizza, you'll find a wide variety of options to satisfy your cravings. Pair your pizza with a glass of local wine, and you'll have a truly authentic taste of Positano.
Must-visit restaurants in Positano for a luxurious dining experience
If you're looking for a truly luxurious dining experience in Positano, there are a few restaurants that should be at the top of your list. One such establishment is Le Sirenuse, a Michelin-starred restaurant located in a historic palazzo overlooking the sea. Here, you can indulge in refined Mediterranean cuisine while enjoying panoramic views of the coastline. Another must-visit restaurant is La Tagliata, a family-run trattoria nestled in the hills above Positano. With its warm hospitality and traditional Italian dishes, La Tagliata offers a truly authentic dining experience that will leave you wanting more.
Insider tips for dining in Positano
To make the most of your dining experience in Positano, here are a few insider tips. First, be sure to make reservations in advance, especially during peak season, as the best restaurants tend to fill up quickly. Second, don't be afraid to venture off the beaten path and explore the smaller, family-run establishments. These hidden gems often offer incredible food and a more intimate dining atmosphere. Lastly, be sure to leave room for dessert! Positano is known for its delicious pastries and gelato, so be sure to indulge in a sweet treat after your meal.
Planning your luxury travel itinerary in Positano
When planning your luxury travel itinerary in Positano, there are a few key things to consider. First, decide how long you want to stay. While Positano can be explored in a few days, to truly immerse yourself in the luxury and charm of the town, it's best to spend at least a week. Next, consider your accommodations. Positano offers a range of luxury hotels and villas, so be sure to choose one that suits your preferences. Finally, plan your activities and dining experiences in advance to ensure you make the most of your time in this enchanting destination.
Conclusion
In conclusion, Positano is a luxury travel destination like no other. From its stunning views to its delectable cuisine, this coastal town offers a taste of La Dolce Vita that will leave you wanting more. Whether you're seeking relaxation, adventure, or simply a taste of the good life, Positano has it all. So, pack your bags, book your tickets, and get ready to embark on a luxury travel experience that you'll never forget. Positano awaits, ready to enchant and captivate you with its beauty, charm, and undeniable allure.
Ready to experience the luxury and charm of Positano? Book your trip today and indulge in the sweet life of La Dolce Vita!