Welcome to the ultimate guide to experiencing the beauty and charm of Mykonos, one of the most popular Greek islands. With its picturesque beaches, rich culture, and lively nightlife, Mykonos offers a unique vacation experience for travelers. But when is the best time to visit this paradise? In this article, we will delve into the importance of timing your trip to Mykonos and explore the various factors to consider.
Why timing is important when visiting Mykonos
Timing is crucial when planning a trip to Mykonos. The island is a popular tourist destination, and the number of visitors can significantly impact your experience. During peak season, which typically falls between June and August, Mykonos is bustling with tourists. The streets are crowded, and accommodation prices skyrocket. If you prefer a more relaxed and peaceful vacation, it might be best to avoid visiting during this time.
On the other hand, visiting Mykonos during the shoulder seasons (April to June and September to October) offers a more favorable experience. The weather is still pleasant, and the crowds are thinner. You can enjoy the island's beauty without feeling overwhelmed. Additionally, traveling during these months often means more affordable prices for flights and accommodations.
Best time to visit Mykonos – weather and crowd considerations
To determine the best time to visit Mykonos, you must consider both the weather and the crowds. The summer months of June, July, and August bring warm temperatures and plenty of sunshine, making it perfect for beach lovers. However, it's important to note that these months also attract the largest number of tourists, resulting in crowded beaches and higher prices.
If you prefer a milder climate and a quieter atmosphere, consider visiting Mykonos in the spring or fall. April to June and September to October offer pleasant temperatures, fewer tourists, and more affordable rates. You can still enjoy the island's stunning beaches and explore its charming towns without feeling overwhelmed by the crowds.
Exploring the stunning beaches of Mykonos
One of the main highlights of a trip to Mykonos is undoubtedly its breathtaking beaches. From the famous Paradise Beach to the secluded Agios Sostis, the island boasts a wide range of spots to soak up the sun and enjoy the crystal-clear waters. Whether you're a party-goer or seeking tranquility, Mykonos has a beach for every preference.
During peak season, the popular beaches like Super Paradise and Psarou can get crowded quickly. If you're visiting Mykonos in the summer and prefer a more serene beach experience, consider exploring the lesser-known beaches such as Fokos or Agios Ioannis. These hidden gems offer a peaceful retreat away from the hustle and bustle.
Mykonos Greek culture and traditions
Immerse yourself in the rich Greek culture and traditions that are deeply rooted in Mykonos. From the iconic blue and white architecture to the traditional dances and music, the island showcases the essence of Greek heritage. Take a stroll through the narrow streets of Mykonos Town, also known as Chora, and admire the charming whitewashed buildings adorned with vibrant bougainvillea flowers.
Don't miss the opportunity to witness a traditional Greek dance performance or indulge in local delicacies at the quaint tavernas. Engaging with the locals and learning about their customs will enhance your Mykonos experience and leave you with lasting memories.
Combining a trip to Mykonos with Santorini
If you're planning a visit to Mykonos, why not extend your trip and explore the nearby island of Santorini? Combining these two iconic Greek destinations is a popular choice among travelers, and for good reason. Santorini's picturesque landscapes and mesmerizing sunsets complement Mykonos' vibrant atmosphere, creating the perfect Greek island experience.
To travel from Mykonos to Santorini, you can take a ferry or a short domestic flight. Both options offer breathtaking views of the Aegean Sea and provide a seamless transition between the two islands. Whether you choose to spend a few days in each location or opt for a day trip, the combination of Mykonos and Santorini promises an unforgettable adventure.
Top luxury experiences in Mykonos
Mykonos is renowned for its luxurious offerings, attracting jet-setters from around the world. If you're seeking a lavish getaway, this island has it all. Indulge in a stay at one of the many luxury resorts, where you can relax by infinity pools overlooking the Aegean Sea and enjoy personalized services catered to your every need.
For a truly opulent experience, charter a private yacht and explore the nearby islands and hidden coves at your leisure. Pamper yourself with spa treatments, savor gourmet cuisine at world-class restaurants, and dance the night away at exclusive beach clubs. Mykonos is a playground for the affluent traveler, providing an unforgettable luxury escape.
Mykonos beach clubs and nightlife
When the sun sets, Mykonos transforms into a vibrant hub of nightlife and entertainment. The island is famous for its lively beach clubs and bars, attracting party enthusiasts from all corners of the globe. From the iconic Paradise Beach Club to the renowned Cavo Paradiso, Mykonos offers an unparalleled nightlife scene.
Dance to the beats of internationally acclaimed DJs, sip on exotic cocktails, and revel in the energetic atmosphere that Mykonos is known for. The party doesn't stop until the early hours of the morning, ensuring an unforgettable night out. Just remember to pace yourself, as the nightlife in Mykonos is known to be legendary.
Planning your trip to Mykonos – accommodation and transportation options
When planning your trip to Mykonos, it's essential to consider your accommodation and transportation options. The island offers a wide range of accommodations, from luxury resorts to budget-friendly guesthouses. It's advisable to book your accommodation well in advance, especially if you're visiting during peak season when availability is limited.
Getting around Mykonos is relatively easy, with various transportation options available. Renting a car or a scooter allows you to explore the island at your own pace and discover hidden gems off the beaten path. Alternatively, public buses and taxis provide convenient transportation between the main towns and popular attractions.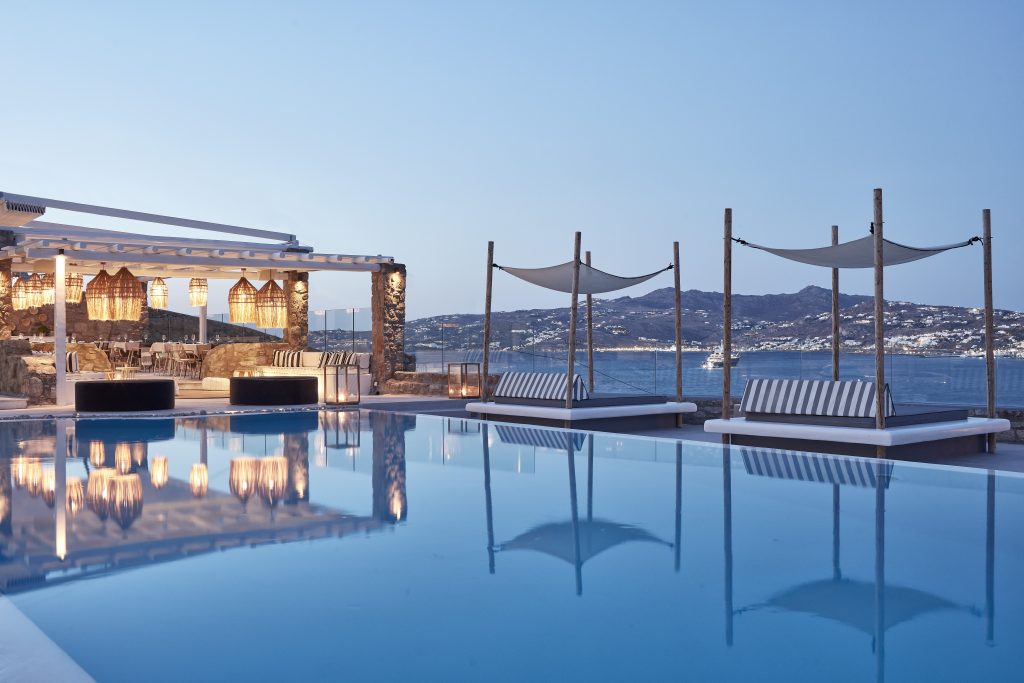 Conclusion
In conclusion, finding the perfect time to visit Mykonos is key to ensuring a memorable and enjoyable vacation. Consider the weather, crowd levels, and your personal preferences when planning your trip. Whether you choose to visit during the peak season for a lively atmosphere or opt for a quieter experience during the shoulder seasons, Mykonos promises to captivate you with its stunning beaches, rich culture, and vibrant nightlife. So pack your bags and get ready for the ultimate Mykonos experience!
Are you ready to embark on your unforgettable Mykonos adventure? Start planning your trip today and experience the best that this Greek paradise has to offer!