Who has never dreamed of Brazil at least once in their life?

This colorful and festive country, rich in natural, marine and architectural beauties, is suitable for any type of trip, whether it is for relaxation or adventure.

Its colors, scents, music, food, everything will be able to steal your heart.
1-Rio de Janeiro
There is no doubt that Rio de Janeiro is one of the most famous and popular tourist destinations in Brazil. This is a very large city and the concentration of contradictions will be immediately evident. It can be divided into five main areas: the historic center, its offices and museums, one of the most visited areas; the areas of Copacabana, Leblon and Ipanema, with huge beaches and numerous hotels; the restaurants, bars and nightclubs of Botafogo offer live music performances, this area is always lively and crowded; Flamenco District, a residential area completely surrounded by greenery; finally there is the Nors area, with the very famous Maracana Stadium and Sambodromo.
2-

Copacabana
Of course, if you are in Rio de Janeiro, you won't miss Copacabana, which is one of the most famous beaches in the world and the beating heart of Rio! It is located south of the city, the richest and most peaceful area. Here you will feel like in a postcard: on the immense crescent-shaped beach, you are 4 kilometers long, with the ocean on one side and skyscrapers and hotels on the other. There are many activities to do, including various sports and recreational activities, it is recommended that you stay in the area for at least a full day. On the promenade and on the beach there are many pavilions and places to stop and eat, apparently open until late at night. There is definitely no shortage of nightlife here!
3-

Lencois Maranhenses National Park
Lencois Maranhenses National Park is one of the most spectacular places in Brazil, if not the most spectacular! Easily accessible from the colony of Barreirinhas, it is an incredible mix of rivers, "moving" waters, mangroves and white sand dunes, spanning some 155,000 hectares. The most unusual thing is that the structure of the white sand dunes also changes according to the changes in the wind. The same is true for water bodies: lakes change with variations in rainfall. The most popular and popular lakes are Lagoa Azul and Lagoa Bonita, both with beautiful waters for swimming.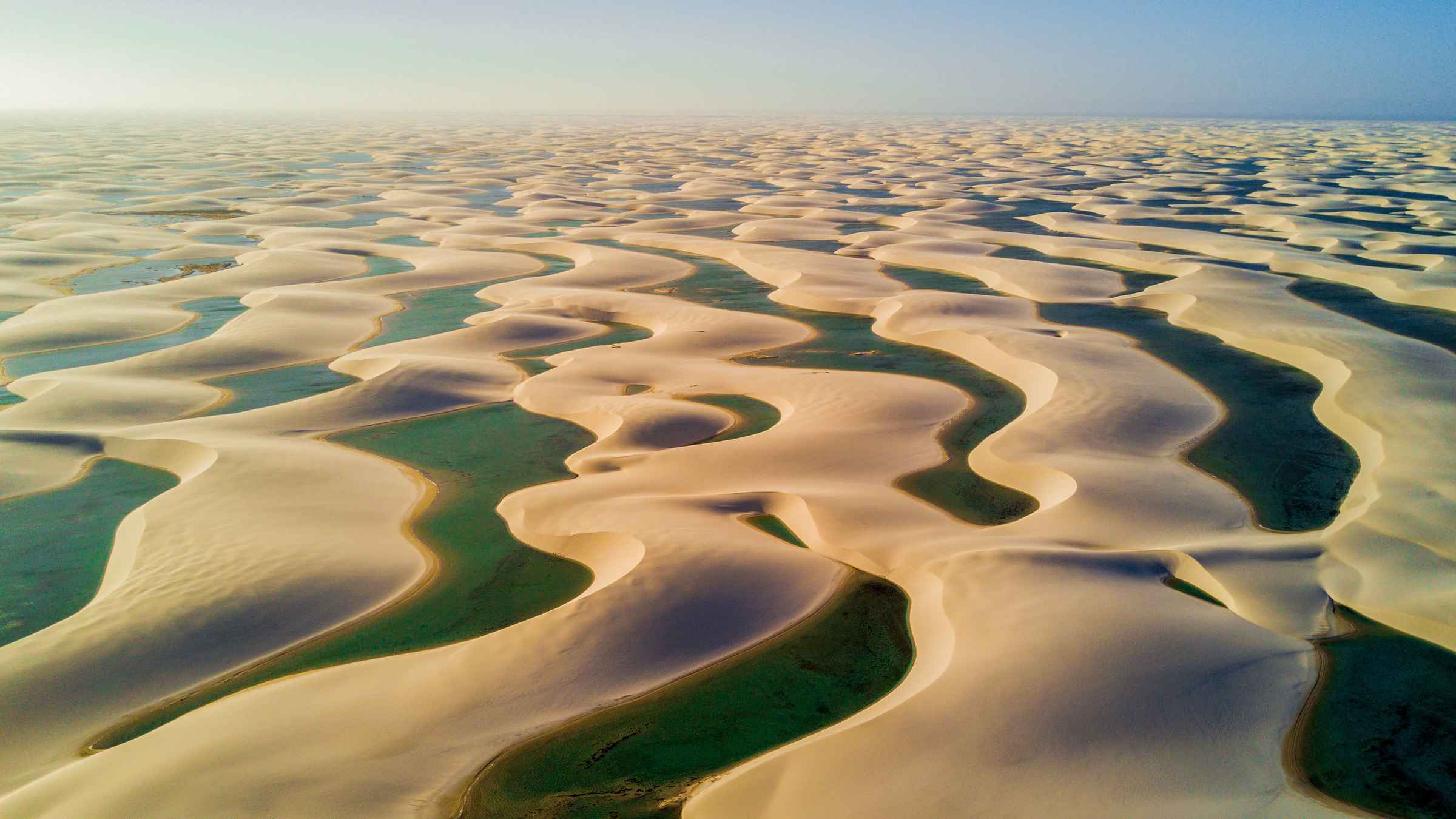 4-

Iguazu Falls
During your trip to Brazil, don't miss a visit to the Iguazu Falls, one of the largest waterfalls in the world, on the border with Argentina. It is 2.68 kilometers wide and 82 meters high and consists of approximately 270 waterfalls. There are numerous walking routes to reach the waterfall in order to enjoy all the beauties of the area and stop at various attractions. Another possibility is to reach them with a jeep and then take the route / safari there. There is no doubt that helicopters are one of the most impressive ways to explore the area. The flight only takes 10 minutes, but you will enjoy until the last second. The scenery you will see is truly incredible.
5-

Amazon rain forest
If you come to Brazil, you don't have to skip the Amazon rainforest. As the surroundings have always been a mystery, most of its 6.5 million square kilometers have never been explored so far, so be sure to see it between May and June to avoid the worst of the rainy season. Belém or Manaus are great starting points for forest tours. If you want to include it in your itinerary, remember this: Traveling in the Amazon rainforest is not easy and you can never do it alone. Rely on serious and professional tour operators to maximize the experience, thanks to local official guide, assistance, insurance and travel packages. Don't rely on the first one you find at all, but be cool.