Thailand is a country with an incredible number of national parks thanks to the tropical climate that favors its survival, where wildlife and nature come together to create magical and one-of-a-kind places that seem to have been taken from a movie. Thailand has a total of 102 national parks which are one of the biggest tourist draws due to their beauty. Since it is not possible to visit all of them during your trip to the kingdom of Siam, I select for you a top 7 of the best parks in the country so that you can have the pleasure of visiting at least one or two properly.
1-Kaeng Krachan National Park
When we talk about the Kaeng Krachan nature reserve in Thailand we are talking about one of the largest national parks in all Asian countries, covered by forest and famous for the dense fog that covers it in the morning in certain months of the year. There are lots of animals although the most important in the park are certainly the 400 species of birds and butterflies. In this park you can also find leopards, bears, wild dogs and elephants. The highest point is located at 1,200 m. Two main rivers originate within the park: the Pranburi River and the Phetchaburi, which is harnessed in the Kaeng Krachan Dam on the eastern edge of the park. The dam, built in 1966, creates an artificial lake. The park is home to a great biodiversity of tropical vegetation, including many tropical and subtropical tree species.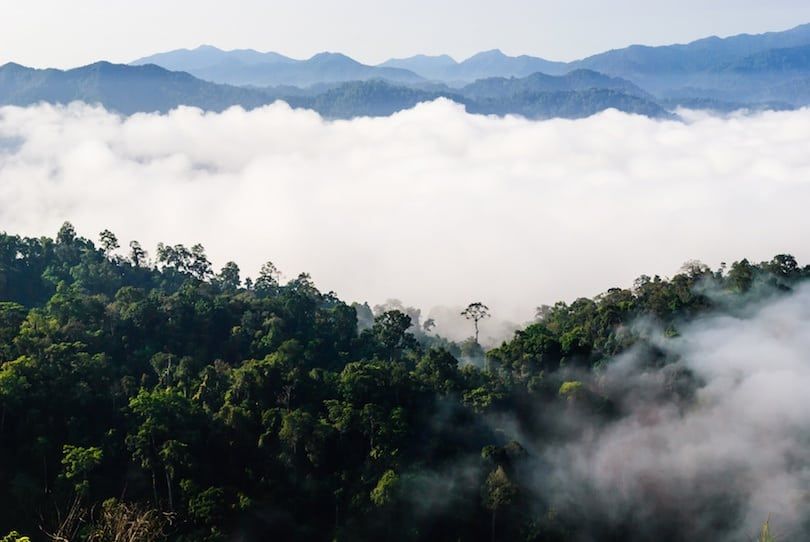 2-Kui Buri National Park
Near the border with Burma is this park, recognized as one of the best places to see wildlife in the kingdom of Siam. His specialty is the chd elephants in this park you can find frequently. It is possible to explore the park with your own car but to see the protected areas in this natural park you will need to book a tour which is usually done in 4×4. Its beauty is given by the fact that its territory has a great diversity of environments, which includes dry mountain ecosystems and evergreen humid forests, allowing the park to host a lot of animal and plant biodiversity. Founded in 1999, the park carries out around 40-50 thousand visits every year. It is well known and appreciated for its beautiful natural scenery and above all for the chance to admire elephants in their natural habitat.
3-Mu Ko Surin National Park
This park is a collection of protected islands in the Andaman Sea. These islands have amazing snorkeling sites with crystal clear waters so you won't miss a thing. In addition you can also find wonderful coral reefs and a lot of marine life. The islands that make up this archipelago are about 60 kilometers from the mainland, are located 100 kilometers from another important national park, that of the Similan in the Andaman Sea and are only 20 kilometers away from the Burmese border. Around the islands the waters are not very deep and this allows you to easily see various marine species including rays, black tip or white tip sharks, sea turtles, giant moray eels, puffer fish, butterfly fish and much more. Snakes such as cobras and pythons populate mangrove forests, as well as a particular species of geko, found only there.
4-Erawan National Park
Erawan National Park is one of the best known in Thailand, located in the Kanchanaburi province in the western part of Thailand. You will have a lot of fun climbing the waterfall and taking a bath in its natural pools or exploring any of its caves. Several mini buses and buses leave from the center of Kanchanaburi to Erawan Waterfalls. The park is 1.5 hours from Kanchanaburi city. 10 kilometers from the park's headquarters is Tham Phrathat, a large cave adorned with stunning stalactites. For an ideal visit to the falls, climb up to the seventh jump. The highest level, which is said to resemble the three-headed elephant "Erawan" led by Indra in Hindu mythology, can be reached after about an hour's walk along which you will also enjoy splendid views of the forest; then, going down, stop for a swim.
Read More http://www.travelluxuryvillas.com/instagrammable-places-in-thailand/
5-Khao Sok National Park
The Khao Sok National Park is located in the province of Surat Thani, it is a natural reserve consisting mainly of forest and jungle, it has a leafy vegetation because it is one of the wettest areas in Thailand that encourages the growth of all types of plants. You can find birds, deer, wild boar, wild cats and elephants. The land animals that populate the park are mostly nocturnal. However, the possibility of being "transported" on a nature tour by elephants is offered: a fun, but reductive experience, since the elephants do not have access to the park, but only follow the external paths. Khao Sok Forest is what remains of an ecosystem that dates back 160 million years. It is a very ancient and rich environment, even if only for this reason it is worth going there.
6-Ao Phang Nga National Park
Many of the national parks in Thailand have both sea and vegetation, most notably Ao Phang Nga National Park, located in southern Thailand in the Phang Nga province. There are a lot of things to see in this park as it has 42 islands with impressive beaches, dizzying cliffs and mysterious caves to explore. The Ao Png Nga National Park is home to over 206 species of animals, including 17 mammal species, 88 bird species, 18 reptile, 3 amphibian and 24 fish species. From Krabi airport, the best and also the cheapest way to get here is undoubtedly by bus. The journey takes just over two hours and, although the vehicles are not always clean and of the latest generation, they are quite comfortable.
Read More http://www.travelluxuryvillas.com/7-typical-dishes-to-eat-in-thailand/
7-Mu Ko Ang Thong National Park
Mu Ko Ang Marine Park consists of nothing more and nothing less than 42 islands. The best way to get to this park is by boat and if you like kayaking they are very popular here. In the park you can find a good variety of animals such as otters, wild boars, monkeys and macaques among others. The islands of the Ang Thong Marine Park have rocky walls that protrude from the sea rising towards the sky for several meters, promising a still uncontaminated natural context and to come into direct contact with a very particular flora and fauna. Most of the islands consist of limestone mountains ranging from a height of 10 meters up to a maximum of 500 meters above sea level. This group of fascinating islands is quite different both geographically and structurally from Koh Samui, Koh Phangan and Koh Tao.