Croatia has always been proud of its natural heritage, well preserved over time.
Over the years, seven national parks have been proclaimed, covering a total area of about thirty-six thousand hectares.
Today we will take you to discover some of the best parks in Croatia.
Brijuni National Park
Brijuni form an archipelago of fourteen islands and islets of absolute beauty and tranquility along the southwestern coast of Istria, separated from them by the Fažana Channel. On 9 November 1983 they were declared a national park.
The mild climate, typically Mediterranean, creates the ideal climatic conditions for the development of an extensive flora with over 680 species of plants (including pines, cypresses, elms, oaks, ash trees, cedars, eucalyptus, palm and bamboo) that form a dense forest of Mediterranean scrub and subtropical vegetation.
Among the animals, the whole area is freely inhabited by fallow deer, mouflons, squirrels, rabbits, pheasants and numerous species of birds.
Kornati National Park
The Kornati islands form the largest archipelago in the Adriatic Sea with 147 islands, islets and rocky reefs. Kornati National Park comprises 109 islands with a total length of 47.5 km and a width of 8 km.
The archipelago takes its name from the largest of its islands, Kornat. It was created when the coast gradually collapsed at the rate of one meter per thousand years. The seabed of this area is made up of numerous rocks with the strangest shapes: high pinnacles, caves and underwater caves rich in corals, mother-of-pearl and shells of a thousand colors. A true paradise for divers.
The almost completely uninhabited, wild and unspoiled Kornati attract many tourists, especially sailors in search of peace and tranquility.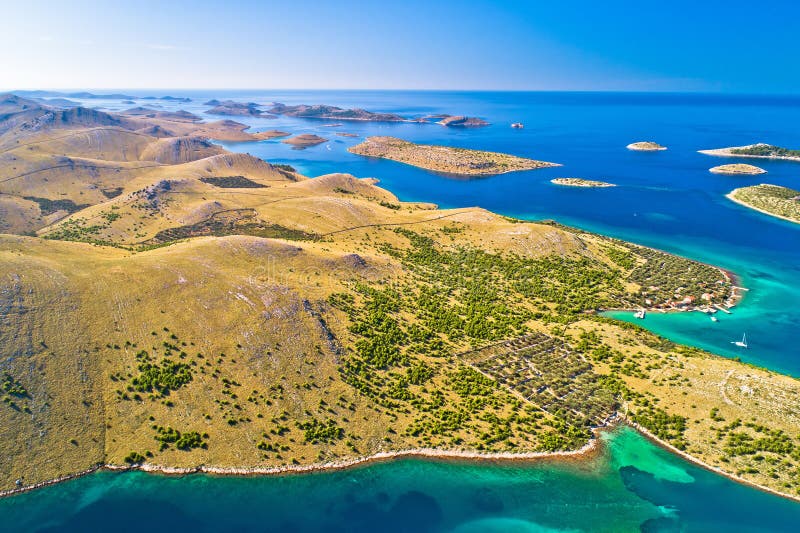 Krka National Park
Krka National Park was declared such on February 12, 1985. The park covers 14,200 hectares. Krka is a 72 km long karst river, very rich in water. Along the way it creates vast canyons, numerous waterfalls, rapids and ponds.
The uniqueness of this natural park lies in the extraordinary combination of geomorphological and natural elements as well as specific historical and anthropological elements. There is a rich Mediterranean flora and local fauna. But you can also admire numerous archaeological finds: Roman and early Christian remains (villa and basilica), a medieval fortress and numerous mills still in use today.
Its importance is particularly distinguished by the Franciscan monastery on the island of Visovac and the monastery of Krka, rich in art treasures. There are also numerous settlements in the park, including the town of Skradin, now a national monument.
Mljet National Park
The park is located in the northwest of the island of Mljet, opposite Dubrovnik. It covers 3,100 hectares and its borders include the regions of Veliko and Malo jezero (Large and Small Lake).
These are two salt lakes connected by a narrow passage. At the center of a large lake there is an islet on which an ancient Benedictine monastery stands. Due to its position, long isolation and poor urbanization, Mljet keeps all its natural beauties intact, so much so that it is considered one of the most beautiful and greenest islands in the Adriatic.
Plitvice Lakes National Park
This national park is located in the Lika region, behind the Vratnik and Otocac passes. The region was declared a national park in 1949. Of 19,479 hectares, 14,000 are covered with forest. Sixteen karst lakes with blue-green waters extend over seven kilometers of rock steps, connected by 92 waterfalls.
The water comes to the lakes from numerous streams and streams. Beech, fir and larch forests cover the entire region, declared a natural heritage of humanity by UNESCO. Currently, many species of animals live in the forest: bears, wolves, wild boars, wild cats and small rodents, as well as birds of prey and otters.
To visit the park it is worth having a map with you, because the number of trails is enormous. There are also recommended routes for those wishing to get around the area by car.