This beautiful country also includes less famous beaches among its waters, which will have the ability to enchant you from the first glance. Ideal destination for those looking for the postcard-like sea and beaches, but also for the charm of past civilizations: a perfect combination of relaxing and cultural holidays. So let's see together a list of the most beautiful beaches in Mexico!
Mayan beach
Tulum
The charm of the picturesque Mayan ruins overlooking the sand. It is considered one of the most beautiful beaches on the American continent, so much so that the New York Times has included it in its top ten of the best beaches. Its coral reef is also second in the world in size, so it is certainly an ideal destination for snorkelers. It is a real paradise characterized by the majestic and fascinating ruins of a Mayan temple that dominate the spectacular panorama from the top of a cliff. The ruins overlook a cove characterized by fine white sand and crystalline waters with a typical Caribbean blue. The whole is surrounded by palm trees and splendid unspoiled nature. Always windy and with a rough sea, the beach, completely devoid of services, is highly appreciated for the extraordinary view it offers, truly unique.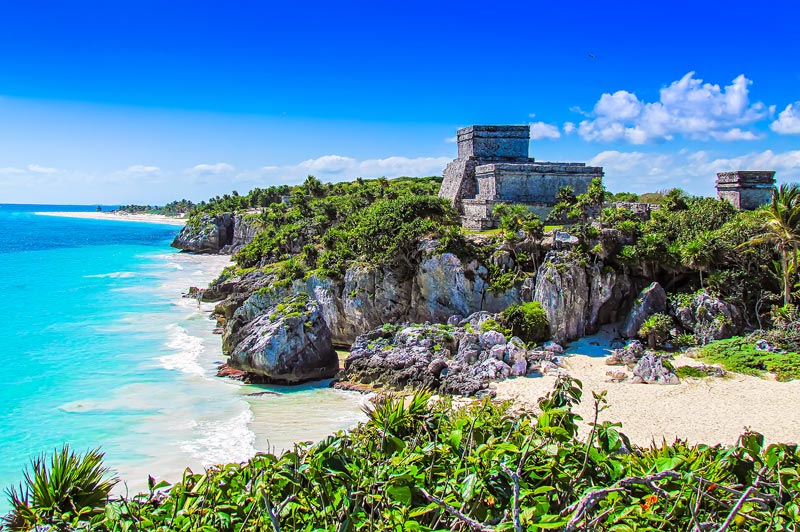 Laguna Bacalar
Quintana Roo
An expanse of water that surrounds the inhabited center of the country, about 40 kilometers from Chetumal. This naturalistic paradise, still in some respects unspoiled, was inhabited by the Maya as early as 200 BC. The Maya called it a lake of seven colors and actually the spectacle that appears before your eyes is extraordinary: it is certainly the only lake in the world where you will have the feeling of being at sea thanks to its fantastic colors. When you arrive in Bacalar, you don't think you are in front of a lagoon but in front of the Caribbean Sea. Thanks to milk-white sand, the seabed is so bright and crystalline that it gives the lagoon all its seven shades. Even when the sky is overcast. This bright water village is semi deserted.
Playa Delfines
Cancun
If you are tired of the usual crowded beaches around Cancun, then Playa Delfines is for you. Located a few kilometers from Cancun on Boulevard Kukulkan towards the airport, Playa Delfines is a must for beach walks. It has the advantage of not being in front of large hotels and this makes it very popular because in Cancun, I assure you, finding a free beach is truly a challenge. Absolutely free from everything: no kiosks, few street vendors, very few sunbeds and umbrellas, no music: it is the ideal beach for those who want to live a day in absolute tranquility. Located on the coast of the Zona Hotelera of Cancun in Mexico, the extremely wide sandy beach with the Blue Flag is particularly striking for its fantastic view.
Paradise Beach
Cozumel
A few kilometers from the archaeological site of Tulum, you can spend the day lying on one of the most beautiful beaches in the area: Paradise Beach. Reached from Playa del Carmen in about 35 minutes, this beach really has everything: many marine activities and fantastic water games, equipped for families with relaxation areas in the shade of large Caribbean palm trees, music, shops for shopping and even a huge swimming pool that invites you to swim in the most stuffy days.
Chileno Beach
Cabo San Lucas
While most tourists flock to Medano Beach, most locals, as good connoisseurs, frequent Chileno Beach and for a very good reason: the beach is classified as one of the cleanest spots in Mexico. Located between San Jose del Cabo and Cabo San Lucas, Chileno Beach is a great place to snorkel: myriads of fish will surround you and you will no longer know in which direction to turn your gaze. Also suitable only for swimming, the beach is equipped with access for the disabled, lifeguards and showers, however, it does not have a bar. If you happen during the whale season, take some time to keep your head underwater. The parking area is not paved, but is classified and marked to facilitate parking. Access to the beach is a few steps from the parking lot.
Playa De Xcacel
Read also http://www.travelluxuryvillas.com/things-to-do-in-riviera-maya/
Among the various beaches in the Riviera Maya, if you want to see a "natural" beach with a day trip from Playa del Carmen, then go to Playa De Xcacel and you will not be disappointed. The price to enter varies between 10 and 20 pesos, but it does not matter since it serves to help preserve this small unspoiled area and support those who protect the turtles that come to nest here. This is a real beach without bars and equipment, but still with toilets and showers. Thanks to its privileged position in front of the Mesoamerican coral reef, it is a sanctuary for over 100 species of fish, as well as being the main nesting place for 2 species of turtles, the loggerhead turtle and the white turtle, for what has been declared a protected nature reserve almost 20 years ago.