The wide range of flavors you will experience in St. Barts is influenced by French, West Indian, Creole, Italian and Asian cuisine.

West Indian dishes are common throughout the island, mainly steamed vegetables with fish.

Creole dishes are spicier, like Accra, a spicy Creole dish: cod fritters served in a spicy sauce.

Today we will take you to discover some that we believe are among the best restaurants in St. Barts!
Orega
Located in the center of Gustavia, opposite the Anglican church, is Orega, which means "this is mine" in Japanese. Orega is a Japanese restaurant specializing in sushi, but not only. Its identity, according to chef Clement Laffitte, is a French-Japanese fusion of French and Japanese dishes. The best ingredients come from Tokyo, New York and Paris to make this combination.
As it is primarily a Japanese restaurant, travelers have found the sushi here to be the best they have ever eaten and the quality of the fish in all dishes is outstanding. The bar is equally glamorous and serves a wide selection of wines, beers and cocktails. Reservations can be made on their website and they accept American Express, Mastercard and Visa.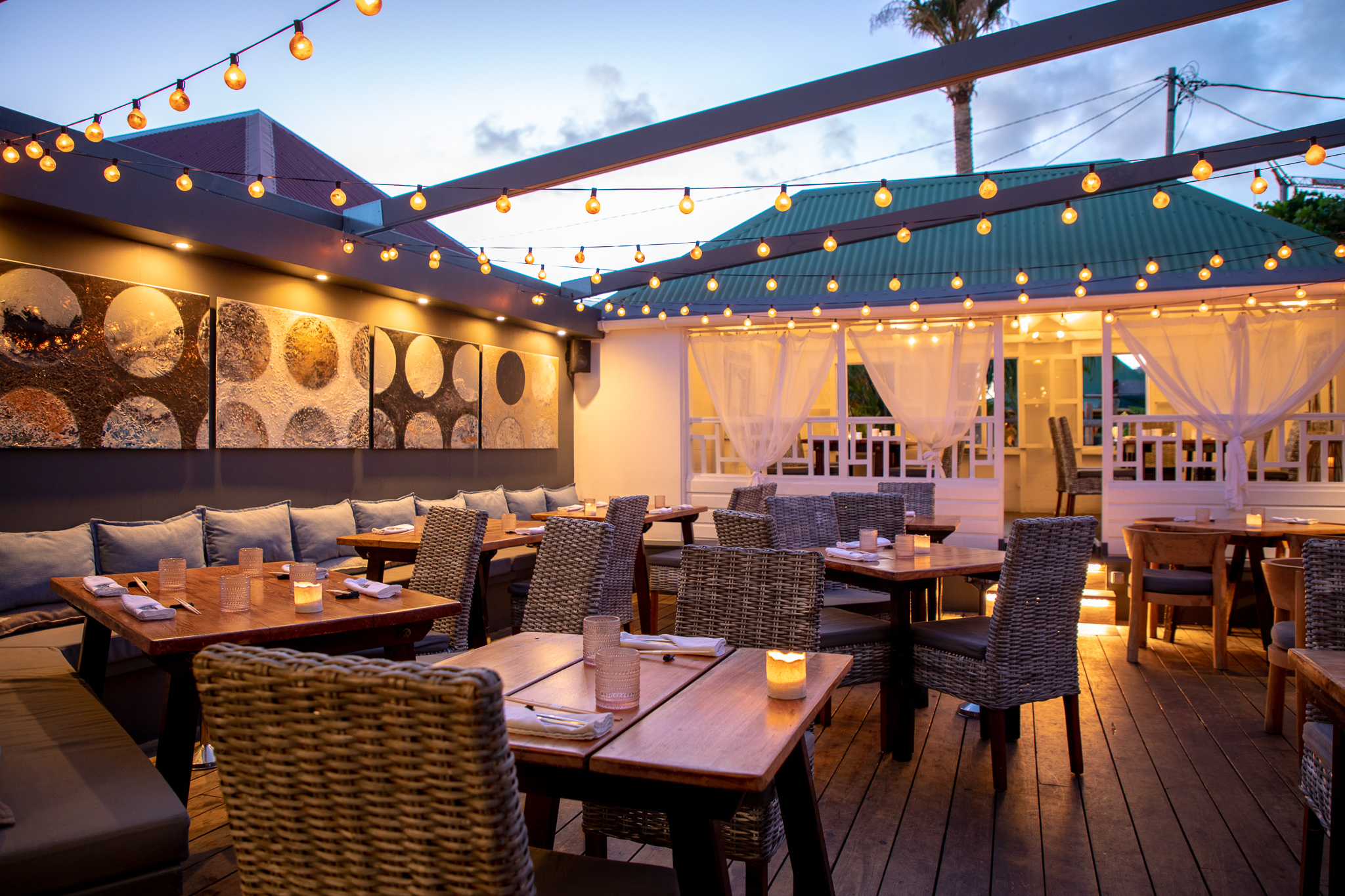 Le Tamarin
You can dine in the enchanting garden full of palm trees and water lily ponds and experience the romantic atmosphere of Le Tamarin, with the peaks rising from the top. The menu is extensive, offering a full 3 course meal, each with plenty of choice. Travelers recommend the tuna tartare with caviar and foie gras. The menu includes vegetarian and gluten-free options.
The separate drinks menu includes French, Asian and local cocktails, wine and champagne. Parking verification and valet parking options. The seating is divided into indoor and outdoor, but for obvious reasons, you'll undoubtedly want a unique outdoor setting. Most major credit cards are accepted, but remember to bring a cash tip!
Santa Fe
The terrace seating in Santa Fe offers a magical view, where you can see not only the ocean below, but neighboring islands as well. It has a lobster tank where you can choose lobster and travelers recommend octopus and suckling pig dishes. There is a full bar with special rum, cold drinks in small glasses.
It is recommended to make reservations via their website. If you really want to plan ahead and accept all major credit cards, you can also download the menu from the website. If you come here to enjoy the beautiful scenery, we recommend having lunch because during the day you can see the neighboring islands.
Bonito
At Bonito, their concept of relaxation and health is embodied in what they call the "Bonito Spirit", trying to create an atmosphere that is as warm and familiar as possible. The magnificent view of the yachts in Gustavia harbor makes you more relaxed.
The seven professional chefs working under chef Laurent Cantineaux extend the "bonito spirit" to the kitchen, where they combine South American cuisine with French cuisine. The live DJ is there to create an atmosphere for your evening, and the selection of songs also allows you to relax. The bar itself is a unique experience, offering specialty cocktails and an extensive wine list. The atmosphere of this restaurant is not to be missed!