Just a short hop from Seoul, Gangwon-do (Gangwon Province) is one of Korea's most beautiful and exciting outdoor destinations. Gangwon-do has a fascinating history. First of all, you should know that it is the northernmost province in South Korea, bordering the DMZ and the North Korean province known as … Kangwon-do. Yes, both provinces have the same name (강원도) and a single province before the division of Korea in 1945. That's why this guide includes attractions and activities in the North Korean province as well; they will most likely be part of your itinerary if you visit North Korea on a tour. 강원도 여행 which means Gangwondo travel and here you will find wonderful places to visit but also where to sleep, today we will take you to the best places to visit in this magnificent location.
Visit Namiseom
Namiseom is a small crescent-shaped island known for its romantic surroundings – you'll find trails lined with colorful metasequoias, ginkgoes, cherries, birches, and more. A day trip from Seoul to Nami Island will give you plenty of Instagram photos.
As a natural and creative paradise, Nami Island is home to an artisan laboratory and a "science center" where you can also try making paper and dyeing fabrics with natural materials. But where is the adventure, you ask?
That's when you'll reach Namiseom, driving the 80-meter Nami Skyline Zipwire from Gapyeong Wharf!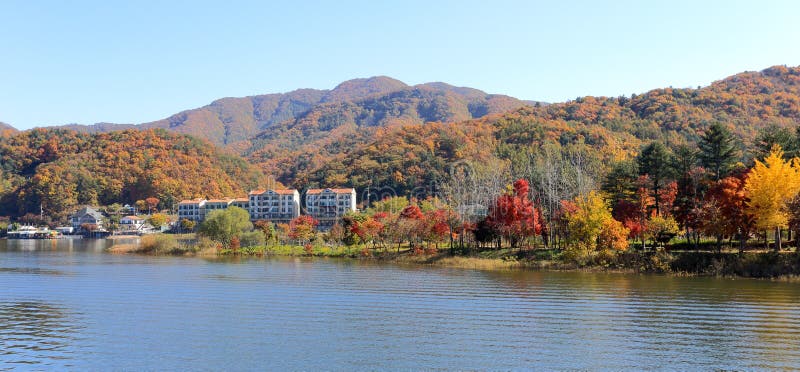 Take the DMZ Peace Train on the Cheorwon Safety Tour
Intrigued by the history of the Korean War? KORAIL actually operates two DMZ peace trains from Seoul. With the Cheorwon Security Tour, you will take the train from Seoul to Yeoncheon before boarding the bus for a tour that requires special access to the civilian control zone (buffer zone in front of the DMZ).
Some of the highlights of the tour include the former headquarters of the Korean Workers' Party, now a bullet riddled ruin, and Woljeong-ri Station, the last station in front of the Gyeongwon Line that crosses North Korea. What really impressed me is that people still live here, tending their rice paddies, which are said to produce the best rice in Korea.
Go hiking in the mountains
82% of Gangwon-do is mountainous, so it should come as no surprise that Gangwon Province has popular hiking spots like Seoraksan National Park (nearest town: Sokcho). The Seoraksan Autumn Hike can be the most rewarding experience as you soak up the magical autumn leaves.
If you prefer a more enjoyable experience, this Seoraksan day tour from Seoul offers you the option of a short day hike or cable car ride on Seoraksan and also includes a visit to Naksansa Temple.
Odaesan National Park is closer to Gangneung, and although it offers spectacular views in the fall, it is best known as a sacred site in Korean Buddhism; the main temple here, Woljeongsa, is the main temple of the ruling Jogye Order.
Skiing or snowboarding in the winter
PyeongChang County is home to South Korea's best ski resorts and hosts the acclaimed 2018 Winter Olympics. Ski enthusiasts should head to YongPyong Resort with 31 slopes in four zones; the resort also offers night skiing until 24:30.
For families and beginners, the Alpensia Resort is the most complete choice. In addition to numerous ski slopes of all levels, it also offers alpine roller coasters, a large indoor water park and two golf courses for the summer.
Immerse yourself in the sparkling carbonated hot springs of Osaek
The hot springs or oncheon (온천) in Osaek are a pleasure to visit. Not only can you use the healing and alkaline thermal springs, but also immerse yourself in cooler (30 ° C) carbonated thermal waters rich in iron and calcium. Sparkling water also promises to work wonders for your skin.
What to eat in Gangwon-do
Unlike other more cultivated regions of Korea, Gangwon-do's combination of cliff and coast has resulted in distinctive regional cuisine.
Hwangtae (황태): dried yellow Alaskan pollock. Usually served grilled or in rice / soups.
Hanwoo Beef (한우): Main product of Hoengsong County, Gangwon Province. In terms of taste and texture, it beats most imported beef and is great for a Korean barbecue. Of course, it still lags behind tightly controlled Japanese Kobe beef.
Memil (메밀): This word means buckwheat, which is the staple food here. If you are gluten intolerant, buckwheat noodles and buckwheat pancakes are local delicacies.
Namul (나물): Wild vegetables found in the mountains are often topped with delicious, refreshing banchans or side dishes. This includes roots, stems, leaves, and even fine ferns and pines.
Ojingeo Sundae (오징어 순대): This isn't ice cream! Pronounced "soon-dae", this is squid stuffed with tentacles, mushrooms, greens, or sweet rice.