Miami, a name on thousands of bucket lists, is the most popular city of the sunshine state Florida. Be its golf courses, theme parks, or long beaches – Miami has everything. Another thing that you can't afford to miss in Miami is the food. The amalgamation of so many cultures in this city has brought diversity and uniqueness in their food choice. Whether you visit a restaurant or a local eatery, the dishes' distinctiveness and deliciousness will mesmerize you. Here is the list of five foods that you must not miss while you visit this beautiful city. 
 1-Mouth-watering Ceviche 
Ceviche, popular as cebiche or seviche, has originated from the coast of Latin America. With citric acid, fish, and different spices, this Peruvian dish will blow your senses away with its look first, followed by its awesome taste. When made simply, it contains fresh lime juice and raw fish seasoned with salt and hot pepper. Red onions act as the color and sweetness enhancer. Generally, sole, halibut, sea bass, Polack, flounder, and bream go into making this dish. You can find Ceviche made with tuna, salmon, oysters, mussels, and calms too. Sometimes, to make this dish richer, the chefs add choclo or yum chunks or starchy and nutty Peruvian corn. Order this delectable starter accompanied by some roasted corn or sweet potato and, of course, a glass of sparkling wine to make the evening memorable!
2-Coconut Cake for Breakfast
You cannot go wrong by starting your day with this tasty coconut cake! However, be ready to spend a good amount of time, approximately 2 hours when you order this cake. The locals enjoy this freshly baked cake made with key lime, coconut, guava, pineapple, and mangoes. It also contains plenty of special fruit like guanabanas. When it comes to taste, it is neither like a muffin nor a pancake. This traditional cake of Mimi comes in two or three layers with lots of white or yellow frosting of either cream cheese or buttercream. Weekends are when the Miami residents break the monotony of having coffee and empanada for breakfast and enjoy a brunch with this savory cake. Thus, you will be more likely to get this sweet cake on the weekends, and it is worth the wait!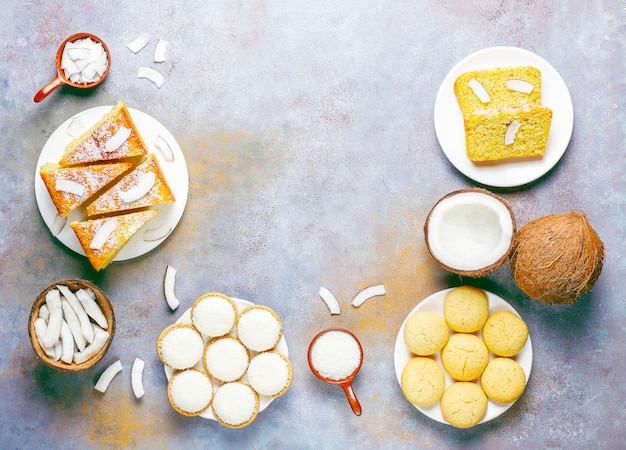 3-Chicharron
Missing the South American staple Chicharron means making a blunder, particularly for the pork lovers! This dish, influenced by the Caribbean and Latin America, contains roasted and deep-fried pork belly, fat, skin. While some pieces are crunchy and salty, others are tender and meaty. This perfect combination has made the dish a must-have for both the locals as well as tourists. Its popularity is not restricted to Miami but has spread worldwide. Besides pork, chicken, mutton, beef, and fish go into the recipe as well. 
4-Stone Crabs – Staple of South Florida
You will hardly find a person who hasn't heard about stone crabs or Menippe mercenaria. So huge is the craze that most tourists start looking for this scrumptious crab dish as soon as they land in Miami. Have a wonderful experience when you eat it chilled served with lots of mayo, coleslaw, and hash brown potatoes. However, to eat this succulent and juicy seasonal crab dish, you have to visit Miami between October and May. Joe's stone crab is the most popular there. However, you can have it in many other restaurants like Golden rule seafood market and restaurant and Monty's raw bar. To have this delicious crab dish, you have to burn a hole in your pocket. Only the 2-3 inches claws of this crab are harvested between 15th October and 15th May, which leads to its hefty price. For the remaining five months, both the tourists and the locals have to satisfy their taste buds with a Cuban sandwich or a simple Miami fish sandwich. 
5-Key Lime Pie – Another Oldie but Goodie
Miami not only offers spicy and fatty foods but some amazing desserts to satisfy your sweet tooth! One of them is the key lime pie, made with egg yolks, key lime juice, and lots of condensed milk. The yellow juice of key lime makes the pie aromatic.  Be it local food joints or posh restaurants, the key lime pie is equally delicious when served with whipped cream or meringue made from egg whites on the top. Topping-less variety is similarly popular too. You can have it without crust or with graham cracker crust or pie crust too.  This lime pie will melt in your mouth with its perfect combination of tartness, sweetness, and creamy texture. Owing to its lusciousness, some people have it before dinner, often two at a time!
Parting Words
If you are making plans to head to Miami, be ready to gain many calories as besides touring, you will just eat and eat. All the dishes of this magic city will make you ask for more. Though every food item demands a mention and worth trying, do not leave the city without having the five dishes mentioned above.