To determine the best time to travel to Thailand, you need to consider what kind of travel you want to undertake: being a large country, climatic differences are also important. Usually the best time is from December to March. Today we will help you choose the 4 best villas for your Thailand holiday in December.
1-Villa Amarapura (6 BD)
Cape Yamu, Phuket
Overlooking the blue waters of the Andaman Sea, the east coast of Phuket and the stunning limestone formations of Phang Nga Bay, Villa Amarapura is a stunning seven-suite villa with a red carpet on the luxury villa rental track. The winning combination creates a unique villa experience, which ultimately brings incredible comfort, a spectacular fun and chic experience; the villa surprises people with its unique style and continues to exceed all expectations.
The games room includes, in addition to a fully equipped gym, also a billiard table with golf simulation games and a green starting area to increase the virtual experience. Outside, the villa's grounds include a putting green, an additional golf facility, a basketball and kayak court and a tennis court on the gated estate. Amarapura excels in villa luxury and promises to deliver a first class villa holiday experience, bringing you sensations and making a difference with true star quality.
2-Viman at Samsara
Kamala Kathu, Phuket
A stunning contemporary villa offering a rich blend of bold colors, striking furnishings and panoramic island views. Built on three levels on a spectacular hill above the sea, this expansive property with interior living rooms and dining areas opens directly onto the surrounding decks. The infinity pool is surrounded by outdoor restaurants and beautiful seating. It is a six bedroom villa that can comfortably accommodate up to fourteen people and is perfect for a large group of friends or a family reunion.
A central entrance and a staircase lead from the foyer to the main hall. The Andaman Sea shines through the vaulted glass facade. Spectacularly located between 40 and 60 meters above sea level, this oceanfront villa offers spectacular views to the west and north of the Andaman Sea and Nakalay Beach, and to the south of Patong Bay in Phuket. The little ones in your family will love it, because right next to the children's double room is a playroom where a foosball table and ottoman provide entertainment for the kids.
3-Tree Pool House
KeemalaKamala, Phuket
The We-ha clan is a group believed to have advanced knowledge of the universe. They built their houses raised off the ground to get more creativity and freedom. The clan included the talents of healers, creators, architects and inventors. Their way of life was completely different from that of other clans; this is reflected in the design of the tree houses. These duplex villas are spacious and have a private pool; main bedroom on the upper level and a large living and dining room on the lower level.
The seven tree huts are equipped with hanging furniture, cocoon-shaped beds and loungers. Inspired by the creative life of the We-ha clan, 7 wooden log cabins with swimming pools feature a master bedroom. Keemala is away from the crowds and overlooks Kamala Village and Phuket's Andaman Sea. Nestled in the hills and among lush forests, Keemala offers a retreat from everyday life and welcomes you to an enchanting evergreen wonderland.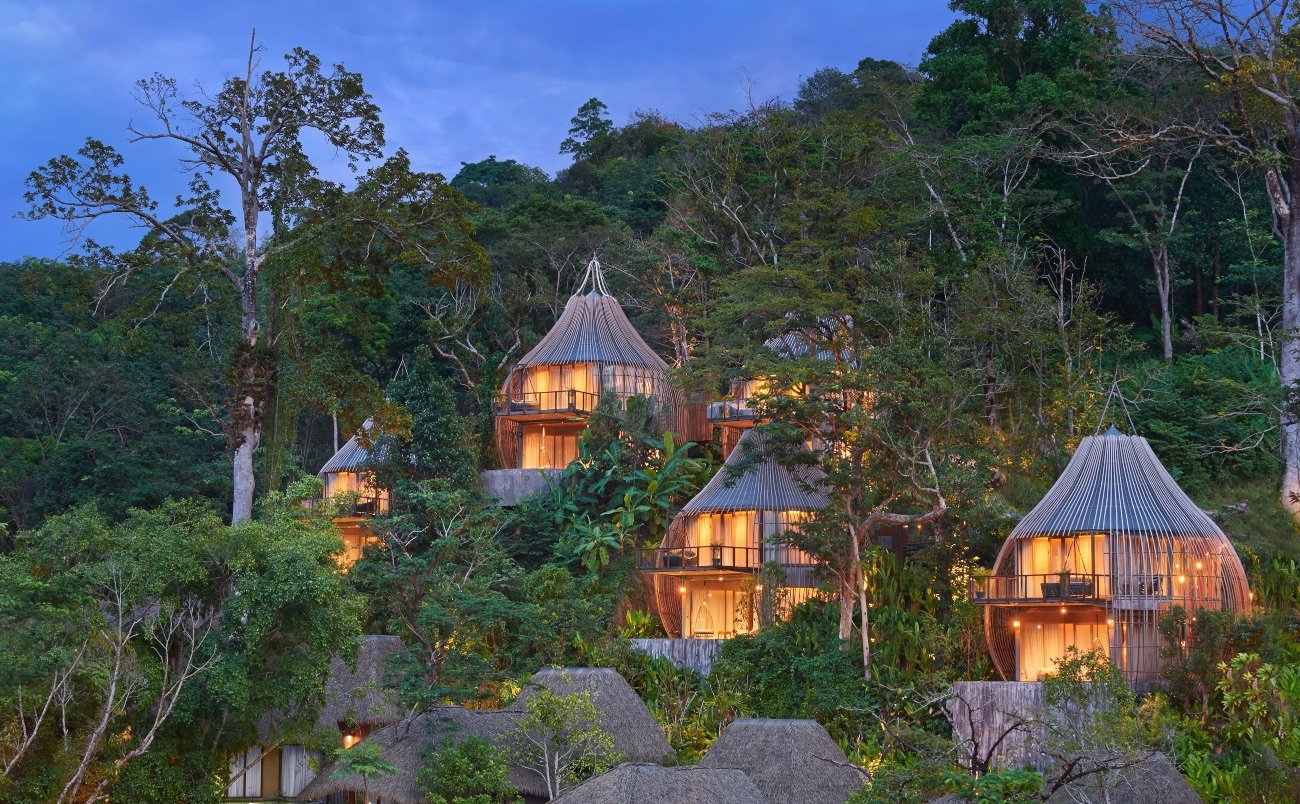 4-Villa Sawarin (7 BD)
Pa Klok, Phuket
The unique combination of contemporary design and Thai-style charm created by Jean Michel Cathy and Philippe Starck evokes visual emotions. With over 3,845 square meters of indoor and outdoor space, this Sawarin villa offers stunning views of the crystal clear waters of Phang Nga Bay. It has three acres of perfectly manicured tropical gardens, eight large and elegant rooms and one of the most beautiful sunrise and sunset shows. The villa offers fine dining and a 24/7 concierge service, is equipped with the latest technological improvements and offers every imaginable comfort. Bringing you to a beautiful haven of peace, the villa offers its own golf driving range, botanical garden and private spa room.
A regular business traveler who wants to escape will receive confirmation that they have discovered paradise at Villa Sawarin. Villa Sawarin where perfection and luxury meet in free time and relaxation. It is the perfect retreat for friends and family looking to reconnect in a beautiful private setting. From the entrance to the cathedral-like mansion, the ocean shines both east and west. A quiet semi-private beach is located at the bottom of the villa.
If you want to know more about these villas click this link