With its approximately 1600 square km it is not the largest of the Hawaiian islands but it is certainly the most populated and the most important from an economic point of view. Today we will take you to discover the best things to see in Oahu!
Where is the island of Oahu located
The island of Oahu is located north of Maui and Big Island (also called Hawaii) and south of the island of Kauai in the middle of the Pacific Ocean. To get a better idea of its location, take a look at the map of Hawaii below.
Most travelers landing in Honolulu stay downtown for at least the first night, many in Waikiki. The airport is only 5km from the city center and 15km from Waikiki, making it relatively close (if rush hour traffic permits).
Climate of the island of Oahu
Oahu is very popular with tourists all year round, thanks in part to its mild climate.
In fact, the island is sunny for most of the year and is subject to various extreme phenomena.
The climate is drier on the west coast and wetter on the east, and winter storms are quite rare: thanks to constant winds that create a 'softening' effect.
Overall, rainfall increases in proportion to altitude: Waikiki, for example, has modest annual rainfall, while nearby Upper Manoa Valley north of Honolulu, at its highest altitude, is six times wetter.
What to do in Oahu
surf
If you are an expert, winter will be the perfect time of year for you: the waves of the North Shore (even 20-25 meters in the cold season) await you with open arms.
Professional surfers already know this and make pilgrimages to beaches like Waimea Beach Park, Sunset Beach, and Pipeline Banzai.
The North Shore can also accommodate novice surfers in the summer (we recommend extreme caution, however).
Oahu is considered an Eldorado for surfing and even those who have never tried it will find the perfect conditions to try their hand on the island.
In fact, there are many beaches with surf schools and where you can rent equipment: Waikiki for example, but also Kailua Beach, to the east, where you can surf all year round.
Taste different dishes
Traditionalists of the kitchen, it is time to indulge in various and different tastes from the usual. The many cultures that converge in Hawaii are also expressed in the hilarious mix of cuisines.
From this point of view, Oahu is certainly no exception, so we recommend that you try the various dishes that the island offers.
You will surely find unforgettable flavors to add to your holiday memories list.
And if you're in Honolulu, Kakaako, don't miss Eat the Street on the last Friday of each month: more than 40 trucks will be waiting for you, offering you great and varied street food.
Watch a sunset
Nothing could be easier than watching the amazing sunset on Oahu!
On the island you will come across them almost by accident, but try to contemplate at least one particularly good location, such as a beach or restaurant.
So you can safely admire the sun hiding behind the horizon, enjoying the moment and capturing it with dignity with your camera or smartphone.
Attend a Luau
Vacation is always a party, so what a Hawaiian party this is: everyone at Luau!
Too kitschy or too touristy for some, but this typical event embraces, cheers and really manages to convey the historical and cultural elements of the Hawaiians,
that's why we recommend it.
What can you expect from Luau? Songs, music, dances in colorful fringed skirts, shows, buffet dinners and lots of smiles.
Shopping
Oahu also fulfills shoppers' desires: clothing and accessories from major brands, Hawaiian items, traditional art and contemporary design.
Especially in Waikiki, there is everything between shops and department stores.
Popular shopping spots are Ala Moana Center, Ward Warehouse and Aloha Stadium Swap Meet
On the east side and north shore are delightful island-style shops selling jewelry and art.
Want to know a place where it's all about surfing, including shops? You can go to Haleiwa, the largest city on the North Shore.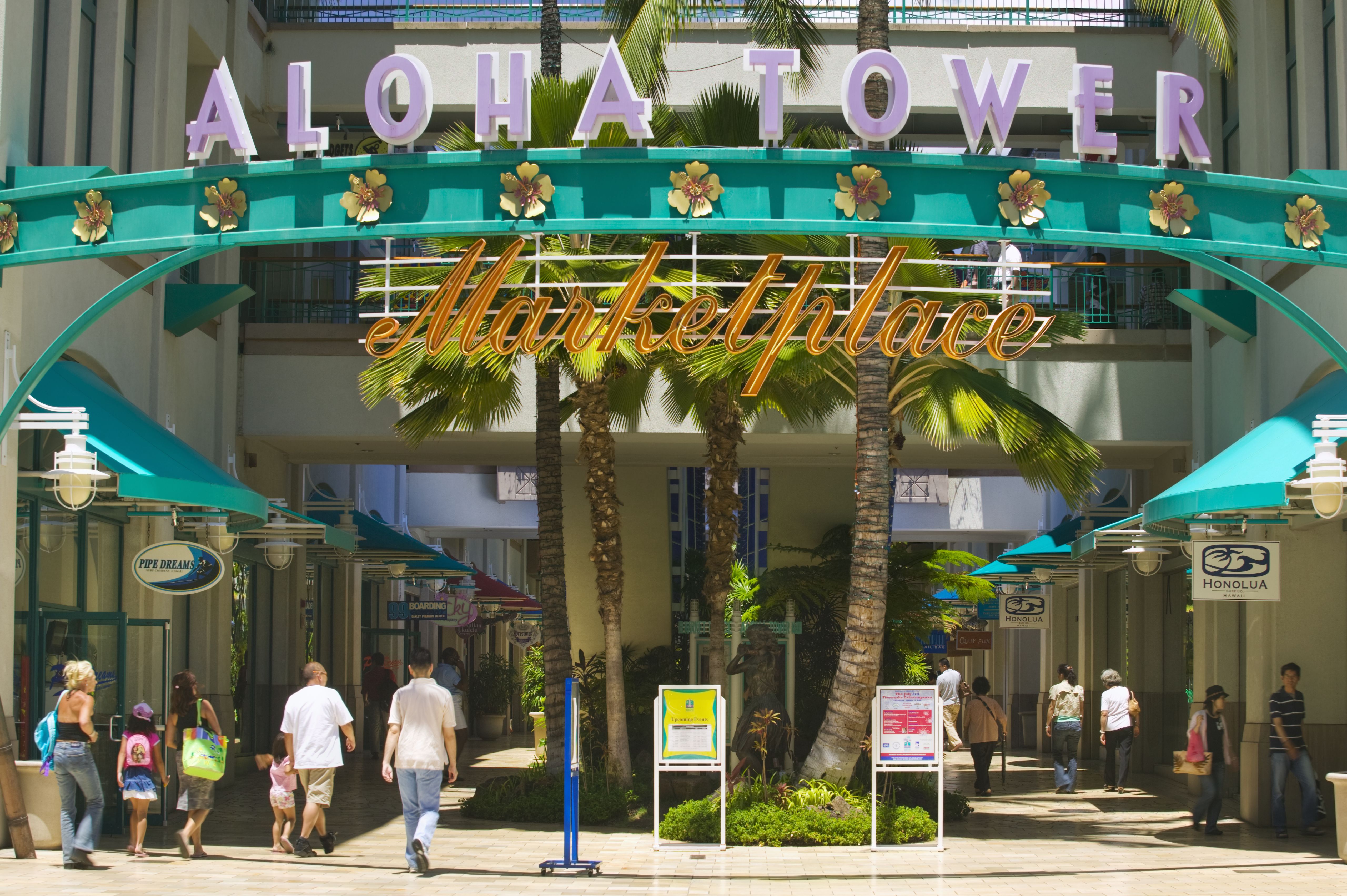 Honolulu
A fascinating capital, where modernity meets tradition, and is full of things to do and see. Visiting the city is often one of the main reasons for a trip to Hawaii.
"In Honolulu". In fact, say it sounds good and has tasted the promise.
what to see?
Without a doubt, Waikiki Beach (which also offers Hawaii's liveliest nightlife) and more.
Bishop Museum, Honolulu Zoo, Waikiki Aquarium, Diamond Head National Monument Volcanic Cone Park, USS Arizona Memorial in Pearl Harbor, Manoa Falls, Iolani Palace, the former residence of the rulers.
Then you can decide to spend your time in the huge Ala Moana Center shopping mall, or swim alongside the dolphins (for free!) And choose to take a dolphin tour with you. To explore and experience unforgettable things we recommend Private Spanish Tours in Oahu, Hawaii which will guide you through the island according to what you choose in total tranquility and safety so that you can enjoy your vacation to the fullest, they will tell you everything you need to bring. and that you will need during your tour and also the time when they will come to pick you up and many other things to make your experience simple and magnificent.
Waimanalo Beach
Located on the east coast of Oahu, about 26 kilometers from Honolulu, Waimanalo Beach is one of the longest stretches of sand on the island: 8 kilometers of breathtaking views. Once there, you will probably recognize it because you have seen it on TV series like Magnum P.I. and Hawaii Baywatch.
The water is calm and transparent, surrounded by trees.
This beach is perfect for bathing families with children, thanks to the fact that the seabed is always deeper. Favorite activity for bathers? Sunbathe, ride the waves on a surfboard, and have a picnic in the shade.
Bring food and drinks with you as there are no restaurants or kiosks.
The beach is supervised by lifeguards until late afternoon and in the far north you will find showers and toilets.
Kailua Beach Park
Kailua Beach Park is located in the quiet eastern area of Kailua. I like? how! The park is equipped with parking, picnic tables, showers, public services, surf center.
As such, the beach is considered by many to be the most beautiful beach in Hawaii (in fact, in the United States, because it is nicknamed "America's Best Beach"), thanks to its turquoise waters, fine, clear sand, and stunning scenery. , there are islands that can be seen offshore.
Starting point for a kayak trip, Kailua Beach is a favorite with surfers and can be enjoyed all year round.
Polynesian Cultural Center
The Polynesian Cultural Center is a well-organized tourist attraction located in Leyer, in northeastern Oahu. This is a cultural center where you can learn about the cultures and traditions of the six Pacific regions: Tonga, Tahiti, Samoa, Aotearoa (New Zealand), Fiji, Hawaii.
Entertainment for adults and children, dancing and singing make the visit even more enjoyable.
Some examples of what you can do: throw a spear, prepare a Polynesian-style meal, get yourself a temporary Maori-style tattoo.
The center is crossed by an artificial lake where it is possible to try your hand at canoeing, as well as shows dedicated to the different peoples who represent their cultures.
Important: Since the cultural experience is rich and particularly engaging, in order to discover all that the center has to offer, it is advisable to start the visit during the opening hours, which is 12:00. The closing time was 18.00.
Ko Olina Lagoons
With an extension that exceeds two rectangular kilometers, the Ko Olina Lagoons await you in the southwest of Oahu.
These are 4 spectacular "jewel lagoons", nearly identical to every other and linked by paths on the sea.
The lagoons are synthetic (the sand was imported from the island of Lanai), however still wonderful: a actual oasis of nature and tranquility.
The water is shallow and crystalline and there is no shortage of colorful fish and corals!
The property is private, but pedestrian passage to and from the lagoons is allowed, and there is every day public parking available from first light to sunset (by the way, the sundown is exceptional in these parts).
Therefore, a ban on laziness: you have to arrive early to invulnerable a parking space.
You can swim but with caution, as the modern-day is often strong.