Find out which Chinese dishes to try in China: sweet and sour pork, kung pao chicken, fried noodles …
With its long history, unique features, numerous styles and delicious cuisine, Chinese cuisine is an important part of Chinese culture. Traditional Chinese foods are famous for their color, aroma, flavor, meaning and appearance.
1-Hotpot
Hot pot is a "dish" that distinguishes true lovers of Chinese cuisine. If you prefer hotpot instead of ordering cooked rice, chow mein and dim sum, then you are a true fan of Chinese cuisine! Hotpot has a long history of over 1000 years in China. It was only preferred in winter, but recently the hotpot appears on the tables all year round. Besides its delicious taste, there are two other important reasons why Chinese people love the hotpot: first, it's a great way to socialize. People gather around the pot, chatting, eating, drinking and having fun. Second, Hotpot is a "healthy meal". Cooking is better than frying and bone nutrients are released into the broth. Eating hot pots can warm the body and improve circulation in the winter and increase perspiration to cool the body in the summer. Some spices used in hot pots can help relieve minor ailments like colds, clogged sinuses, and headaches. There are different Sichuan hotpots made from different broths and meats, so Sichuan hot pot suits customers with different preferences – all spicy, sweet and sour flavors are available. If you want to challenge your taste buds, we highly recommend the Sichuan Hot Pot.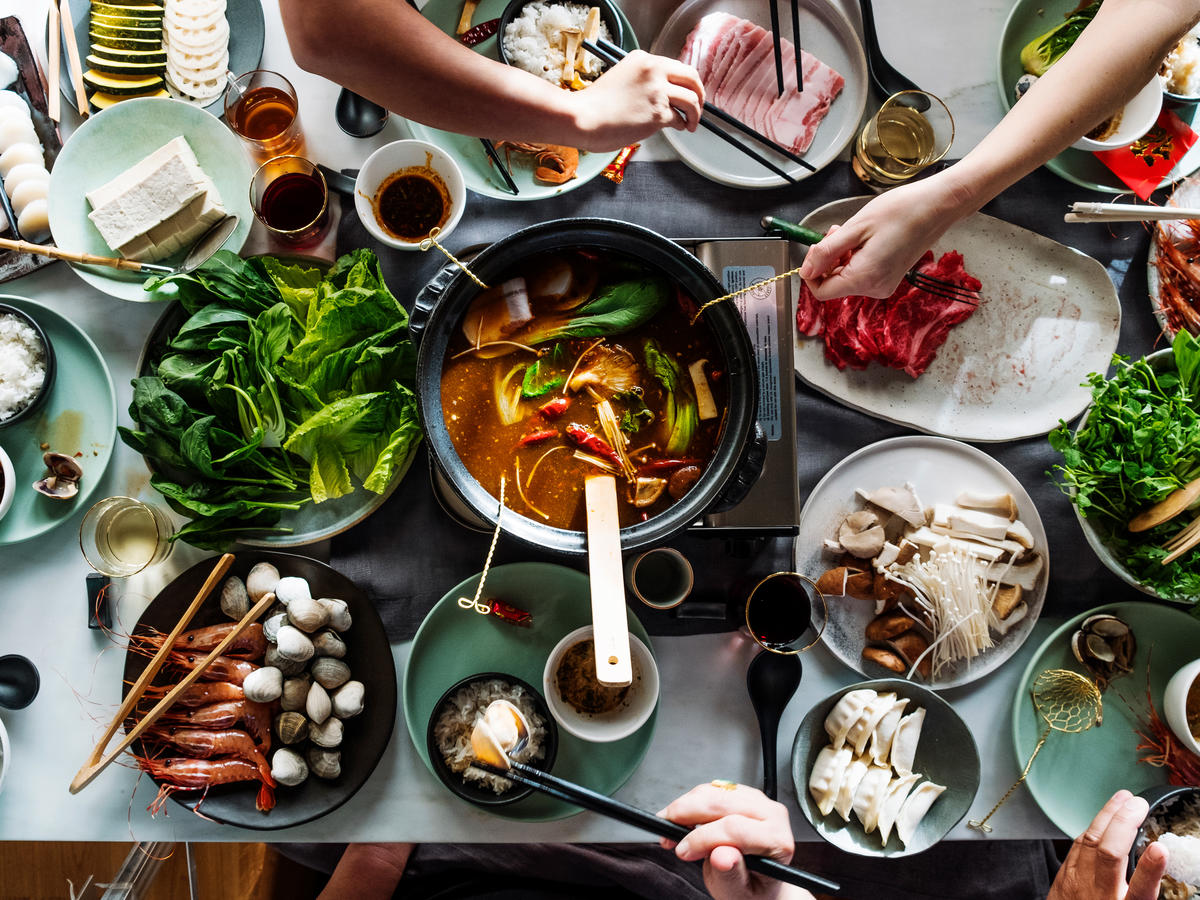 2-Roasted Peking Duck
Peking duck is a main dish of Chinese cuisine, typical of the city of Beijing and its surroundings. Peking Duck is a dish with a centuries-old history that first appeared in a Chinese cookbook in 1330 during the Yuan dynasty under the name of "shaoyazi". Donald Duck himself (and the entire Disney duck family) is a platypus (Peking duck). The duck is then baked in an oven, traditionally hung whole in these traditional Chinese brick ovens powered by burning straw. It is cooked very slowly at very high temperatures (about 270 ° C) for about 40 minutes, until the outer skin is pleasantly bright and crunchy. After cooking, the Peking duck is served whole on the table and sliced ​​by the cook in front of everyone: the skin is served separately with the garlic and sugar sauce, while the meat is thinly sliced ​​and eaten inside some pancakes thin, similar to pancakes with raw or pickled vegetables. as if they were sandwiches. The remaining parts (bones, fat, other meat) can be brought home by customers for broth preparation or grinding.
3-Sweet and sour pork
For many people, sweet and sour pork is synonymous with bad Chinese takeaway food: chewy pork chunks wrapped in a thick batter, coated in a sticky, disgusting sweet and sour sauce. However, when done well – crunchy on the outside but tender on the inside, topped with a well-balanced sweet and sour sauce – this is one of the most mouthwatering Cantonese dishes. Fried Chinese dish of juicy pieces of pork tenderloin, pepper, onion and pineapple. Fry the breaded pork until crispy and then toss in a sweet and spicy sauce. Then skip the takeaway and make the classic sweet and sour pork served with our easy-to-fry rice the whole family will love. No matter where you are, sweet and sour pork is featured on almost every Chinese restaurant menu. It is Asian food. The coated pieces of meat are fried until golden brown and crisp, then topped with an intense sauce that contains a balance of sweet and sour flavor. What sets this dish apart from traditional pan frying is that it is lightly sprinkled on the outside with a little flour, then fried for an extra layer of crunchiness. Fried pork chunks can be eaten as is, so go ahead and taste them before they end up in the sauce.