Two islands in one country! Located between the Atlantic Ocean and the Caribbean Sea, Saint Martin is half French and half Dutch. But this small island is much more: it is a true cultural melting pot!
At Marigot Market, the largest open-air market in the Caribbean, you can feel the Creole territory. In many restaurants you can enjoy the best Caribbean cuisine … There are also many beautiful villas read on to discover 4 of them.
1-Le Reve
Baie Longue, St Martin Villas, Terre Basses
Villa Le Reve is located near the beautiful Baie Rouge beach in St. Martin, a seven bedroom villa offering a property-like setting full of amenities and shops that can make it memorable.
Villa La Reve is a modern villa with an infinity pool and a gentle curve. Located on St Martin's beautiful Baie Rouge Beach, it's a seven bedroom mansion. It offers a property environment full of services and shops that could make it unforgettable. The patio offers a number of relaxation areas and leads to the porch in addition to the personal hot tub. There are several outdoor lounges at this location, as well as an extra set in the shade of palm trees on your private patio near the beach.
The outdoor areas open up to the spectacular indoor spaces and you may be able to enjoy the pleasure of alfresco dining or relaxing in your oversized formal dining room. There may also be a bar, an outdoor lounge at the front, and a large expert kitchen that also opens onto the terrace. Each suite features a variety of beautiful museum art, plus a theater, sports hall, and spa room.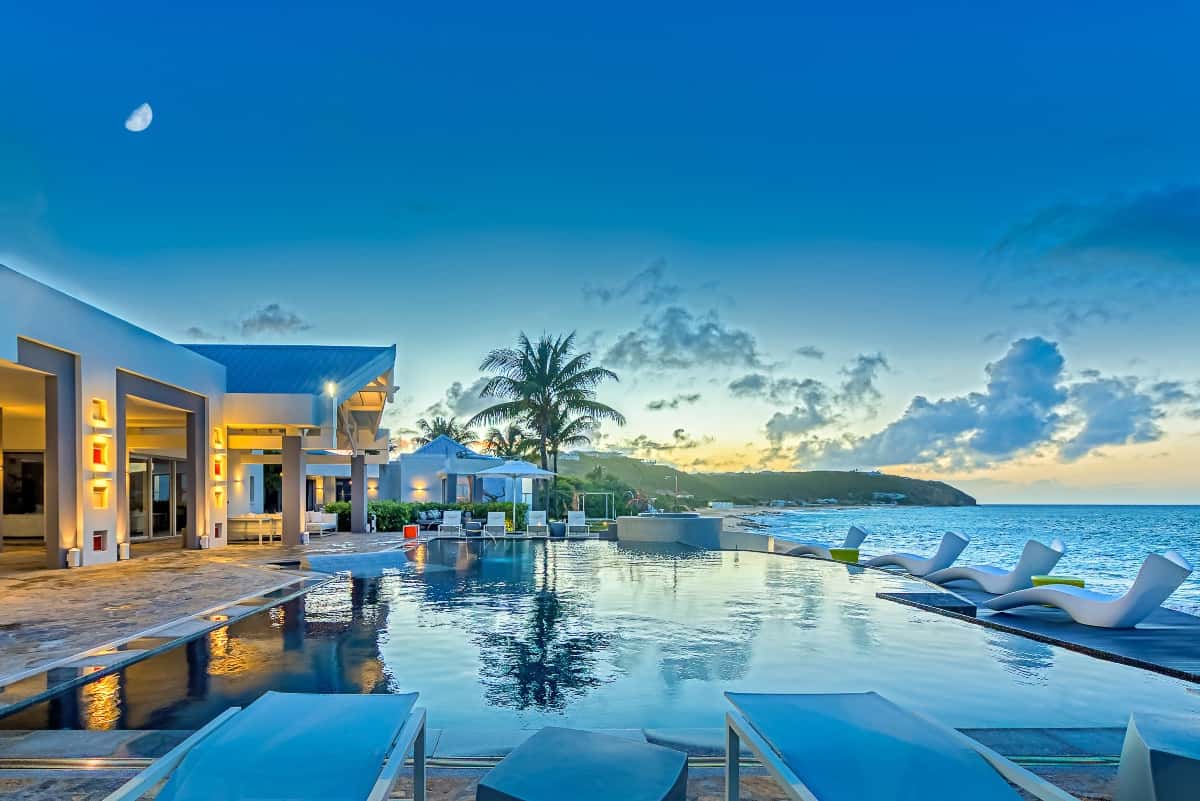 2-Petit Plage 4
Grande Case, Caribbean, St Martin Villas
Villa Petit Plage 4 is located on a small private road at the other end of Grand Case, an oasis of beauty and tranquility surrounded by an eclectic mix of modern and opulent style in Saint-Martin. The exotic entrance is lined with palm trees and tropical greenery and lined with Moroccan arches and wrought iron. The hand carved double door offers a magnificent view of the palm trees and the swimming pool. You are at the sea: in front of you the Caribbean Sea, the tropical sky and Anguilla. From your point of view, the curve is that of Grand Case Bay.
The interiors are large and airy; fully air-conditioned or totally open to the sea breeze. Travertine floors flow from the inside to the outside, creating an elegant and seamless transition. The décor blends contemporary forms with European antiques. The fabulous art and accessories have a museum vibe, but it's a welcoming, charming and exotic place to relax and take in the view. Adjacent to the living room is a large semi-private media room and library. The fabulous and well equipped French Caribbean style kitchen in soft green and gray marble offers sea views and a stunning professional Lacanche stove. An integrated outdoor grill provides additional space for cooking.
3-Casa de La Playa
Marigot, St Martin Villas, Terre Basses
As soon as you arrive at the gates of Casa de La Playa, you will be impressed by this Caribbean beachfront estate located in St. Martin.
The long cobbled driveway, lined with lush and vibrant gardens, is the gateway to a dream villa for everyone.
Go through the front door and immediately see the blue of the pool and the Caribbean Sea. Nothing can prepare you for what you will find behind the massive iron gates of Casa de la Playa. The great room features vaulted ceilings in Brazilian cherry wood and large sliding glass doors that open to the outdoor dining table, covered terrace and large swimming pool. Including a grand piano and pool table, the spacious living room also includes a large screen TV with surround sound, all connected to the villa's main cinema system, which includes over 700 downloaded movies and current TV shows. Adjacent to the large living room is a fully equipped office with a desktop computer and printer for guests to use.
The kitchen is large and is adjacent to the living room and dining room. Your booking includes a private chef and a butler who will be happy to prepare and assist you during your vacation.
4-Villa Amandara (5BD)
Marigot, Caribbean, St Martin Villas, Terre Basses
Villa Amandara is a splendid villa located in St. Martin, overlooking the beach of Baie Rouge and the green hills. You will enjoy the beautiful sunset in this modern style house.
The interior features creamy travertine and dark wood, a neutral setting for views through the glass walls.What we recommend that you enjoy while on vacation at Plum Bay Beach is to dive on the French side, just a 5-minute drive away. Your stay at Villa Amandara includes transportation from the airport to the villa.
You will pass tropical gardens and a peaceful courtyard. Around the infinity pool there are sun loungers, a covered outdoor dining area and a barbecue. You will love the Bali inspired stone bathtub and massage table. For your complete enjoyment, there are volleyball and petanque courts. The luxury amenities included in this villa are a home theater, game room, mini bar and indoor Wi-Fi, and the villa is fully equipped at the time of booking.
This luxurious villa has that special Asian Caribbean touch. The open concept design of the great room is filled with teak accents and rattan furniture to complement the ocean view. The floors are travertine, the vaulted ceiling connects the living room, the dining room and a fully equipped kitchen with an internal breakfast counter.
There are five suites in this luxury property: three bedrooms with king size beds (two with honeymoon-style outdoor showers and one on a lower level with kitchen and living room), the other two bedrooms have a double bed and two twin beds and the five bedrooms have private en suite bathrooms.
If you want to know more about the villas in St Martin click the link below: