If you are wondering what to eat in Bali, know that on average you eat well everywhere. They care about the taste, presentation and quality of the food. Depending on where you are you will find spicy or fiery flavors. In the north of the island more spices and spicy seasonings are used, in the south the flavors are more delicate for more western palates.
1-Ikan Bakar
Local fish grilled on coconuts and flavored with local spices. Accompanied with sambal sauce and water spinach. The best place to enjoy it is definitely on the beach. Especially in the north, still not very touristy there are many "restaurants" called IKAN BAKAR. You will notice them for the slightly dilapidated bamboo huts. In the South, the dilapidated huts give way to real jewels immersed in aquatic gardens. Obviously in these restaurants both the offer of dishes and the price increase.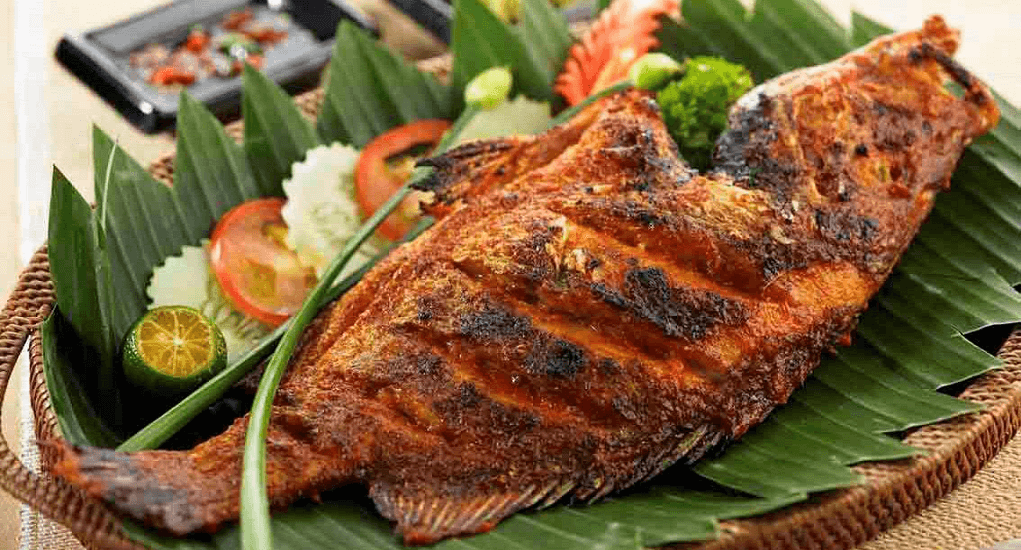 2-Babi Guling
It is pork roasted on the barbecue. It is a dish much appreciated by the local population, eaten mostly on family celebrations. There are numerous places that serve this dish. Especially for lunch, go before 12.00 because otherwise you won't find any more!
3-Gado Gado
Is a vegetarian sauce with cooked vegetables seasoned with peanut sauce. I recommend asking for the sauce separately because it is abundant and beautiful heavy! It is a vegetable-based side dish typical of Indonesian cuisine which is often used as a side dish to accompany chicken, lamb or pork dishes.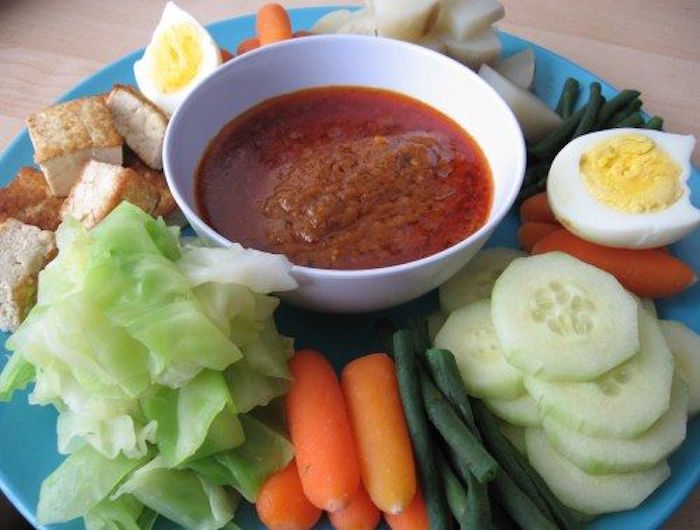 4-Satè
Skewers of chicken or fish meat. Very small cubes of meat cooked on the grill and sometimes soaked in a sweet and sour soy sauce. In restaurants they are served directly on mini table bracerini, sold on the street by the piece. The name saté indicates a dish that is widespread in Indonesia and Malaysia. When the Dutch colonized Indonesia, this dish also spread to the Netherlands where it is common to find it in restaurants and pubs, usually along with fried potatoes.
5-Dadar Gulung
It is a rolled crepes that can be green or pink. The green coloring is natural and the filling inside is in coconut paste mixed with a palm sugar caramel. It is a snack from Southeast Asia with a vibrant color. These mini coconut and pandan roll crepes are filled with more sugary coconut, for a tasty dessert!
6-Pepes Ikan
Fish or meat wrapped in banana leaves and cooked on the grill. The banana leaf, in addition to being widely used in Balinese cuisine as a decoration, when grilled releases an unmistakable aroma to the filling. It is a dish with a very strong taste. It is grilled or steamed for five minutes and served with steamed rice and keckung pelecing.