Creole cuisine reflects the great diversity of breeds that form the Seychelles population. Thus there are the subtleties and nuances of French cuisine, the exotic aromas of Indian cuisine, the spicy flavors of Asian dishes and the traditions of English cuisine. Spices are the basis of Creole cuisine and the ways in which they are used reflect the melting pot of cultures that reside on the islands. Vanilla, cinnamon, nutmeg, pepper, chilli pepper, ginger and many other spices aromatize the foods offering unforgettable flavors.
1-Kat kat
Tuna prepared with bananas and seasoned with coconut milk, as well as with spices, I also recommend it because of a great variety of flavors. The term katkat could be of Hindu origin and means "cut-cut" since the plane tree in the kat kat is usually cut and then crushed. Interestingly, the culinary term kat kat is also used in Mauritius, but it is a completely different dish. Mauritian kat kat, prepared with cassava or bread, is traditionally a dish of meat and vegetables.
 2-Caris Masala
Of Indian origin, the caris masala is another typical spicy dish from the Seychelles. A meat or fish vegetable curry topped with the masala mixture. A lot of Creole cuisine that includes curry is influenced by Indian flavors. Caris Masala is a Creole version of the Seychelles Indian vegetarian curry made with an eclectic mix of vegetables and a combination of spices such as fenugreek, saffron, cumin, cloves and coriander.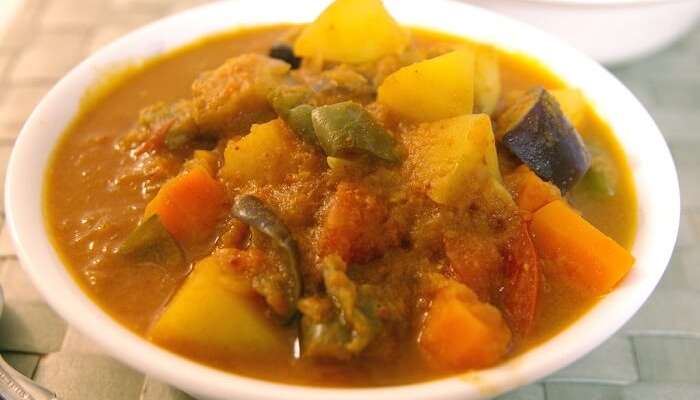 3-Pulao
Pulao is rice cooked with fish, meat and vegetables. Pulao is a dish uniquely recomposed on the island of Mauritius. It is a dish in which rice is cooked in a seasoned broth. Rice reaches its color through a mix of spices specially designed for this wonderful dish. Depending on the taste, Pulao can contain meat, vegetables and sausages. Pulao is normally a dish eaten on weekends among Mauritian families. He is Briani's replacement and is served on every occasion. You can find Pulao in some restaurants around the island or in the hotel where you are staying.
4-Mackarel
It is a smaller fish that can be eaten in several ways; usually, it is cooked with curry, grilled or combined with fish soup.Mackarel residues can also be used to make delicious savory pies with mashed potatoes and lemon juice, which will then be fried. The mackerels are rounded and torpedo-shaped, with a slender, keel-tailed base, a forked tail and a row of small fins behind the dorsal and anal fins. They are carnivorous fish and feed on plankton, crustaceans, molluscs, egg fish and small fish.
5-Octopus salad
Octopus is one of the local delicacies. Meat is cooked very carefully until it becomes opaque but tender. Preparation takes an hour, but even longer, depending on the quality of the octopus. Once the meat is tender, it is cut. and added to your favorite fish cocktail or salad. You can also blow up the pieces cut inside the hot coconut curry. The basic ingredient is fish in all its varieties, accompanied by an imaginative use of fruit, vegetables, herbs and spices.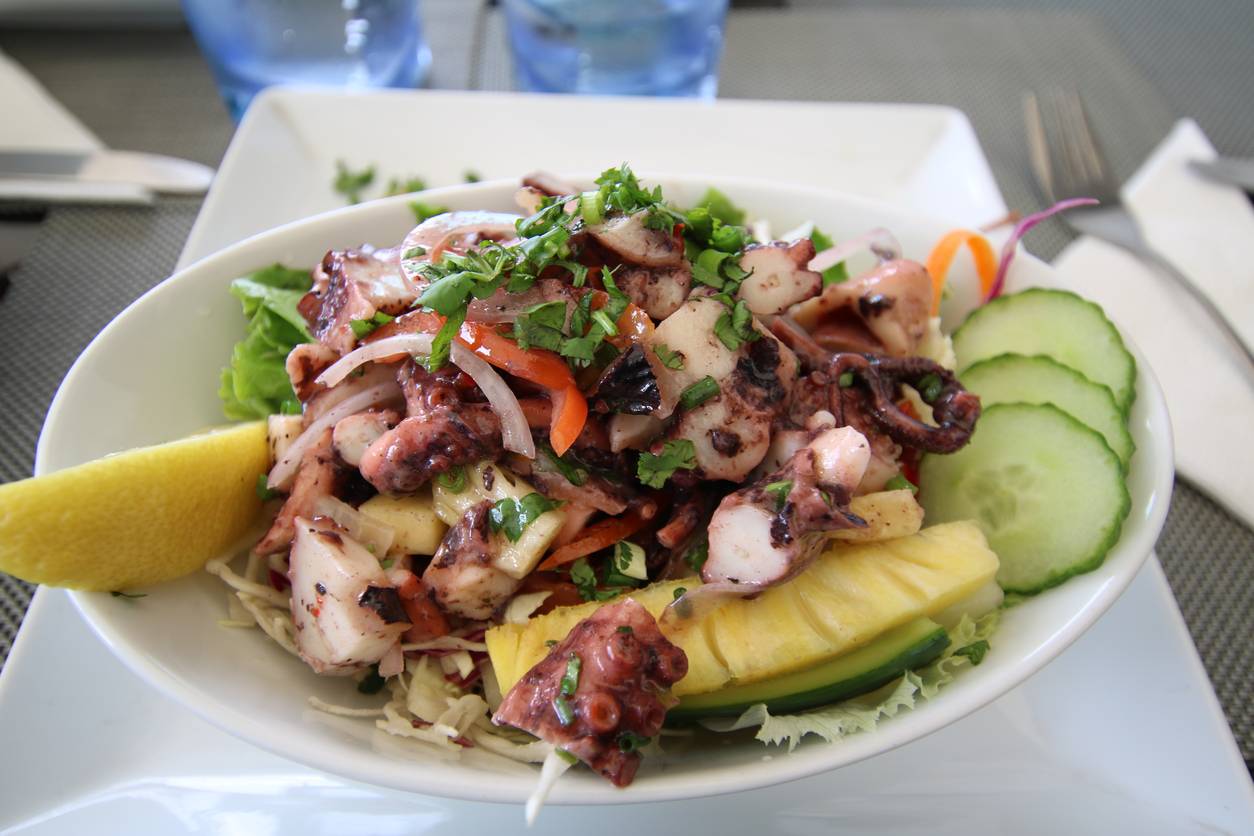 6-Bat stew
Don't be surprised if you see the fruit bat on the menu of many Seychelles restaurants. Usually, it is made with curry or fried and served with cooked vegetables. This delicacy requires a palate that can appreciate it. The flavor is very similar to the meat of rabbit but some tourists say it looks like beef. Eating it is a little bit comfortable because the fruit bat has numerous small bones.