Good places to eat can be found all over the island. Mykonos is the place to be if you are looking for intense nightlife, high-end restaurants and a boho chic atmosphere.
1-Bakaló
Lakka, Mykonos Town
Restaurant| Greek Cuisine
In the heart of the country, Lakka, together with Bakaló, opened a window in a true Greek tradition that brought together the forgotten concepts: warm and familiar water, refined aesthetics, casual intimacy, but also flavors and aromas in every corner Greece. The menu has been defined by the new chef Yiannis Gavalas and is characterized by new tastes and flavors based on traditional Cycladic cuisine. The restaurant is housed in a traditional Mykononian style residence and renovated preserving all the architectural elements of the building tradition of the place with arches and thick walls of the 18th century and a beautiful garden in the courtyard.
2-Caprice Sea Satin Market
Alefkandra|Under the windmills
Restaurant
Sea Satin is a legendary name in the field of Greek dining and entertainment. It is located in the most beautiful area of Mykonos, just under The Windmills, opposite the Little Venice with sublime views of the Aegean Sea and Sunset. Sea Satin Market Restaurant Mykonos is glamorous, cosmopolitan unique place where simplicity meets luxury. The lovely layout of tables and the soft romantic candle lighting, the imaginative decoration based on ochre colors as opposed to the deep blue of the Aegean horizon, vintage touches, collective posters and exuberant flower compositions along with the feel good.Our expertise in Aegean fish and seafood is unique. Shells, clams, lobsters, shrimps are grilled masterfully and served to charm all senses. Appetizers such as homemade fish roe salad, octopus and grilled vegetables they are all prepared with local ingredients and sprinkled with aromatic herbs like oregano and thyme, as well as coarse salt, to go along with the mains, composing the perfect menu to indulge your taste.
3-Kiki's Tavern
Agios Sostis
Kiki's tavern is hidden under the trees. The restaurant is very simple. Tables and chairs are scattered under the trees. A grill at the entrance cooks the daily specials … fresh fish, octopus, stuffed chicken breasts and adored pork chop. Vegetarian options are also available. The glorious view to look out at, the cold rosé in your hand and the fresh food beautifully cooked for lunch.
4-Catari
Agia Anna, Mykonos Town
Restaurant|Italian
Cool Italian restaurant where you dine in a retro style courtyard under gigantic palm trees; enjoy traditional antipasti, home made pasta, daily fresh fish and meat main courses, crispy Neapolitan pizzas while sipping a sensational cocktail. Where Amalfi endless charm meets Mykonos vibrant hype.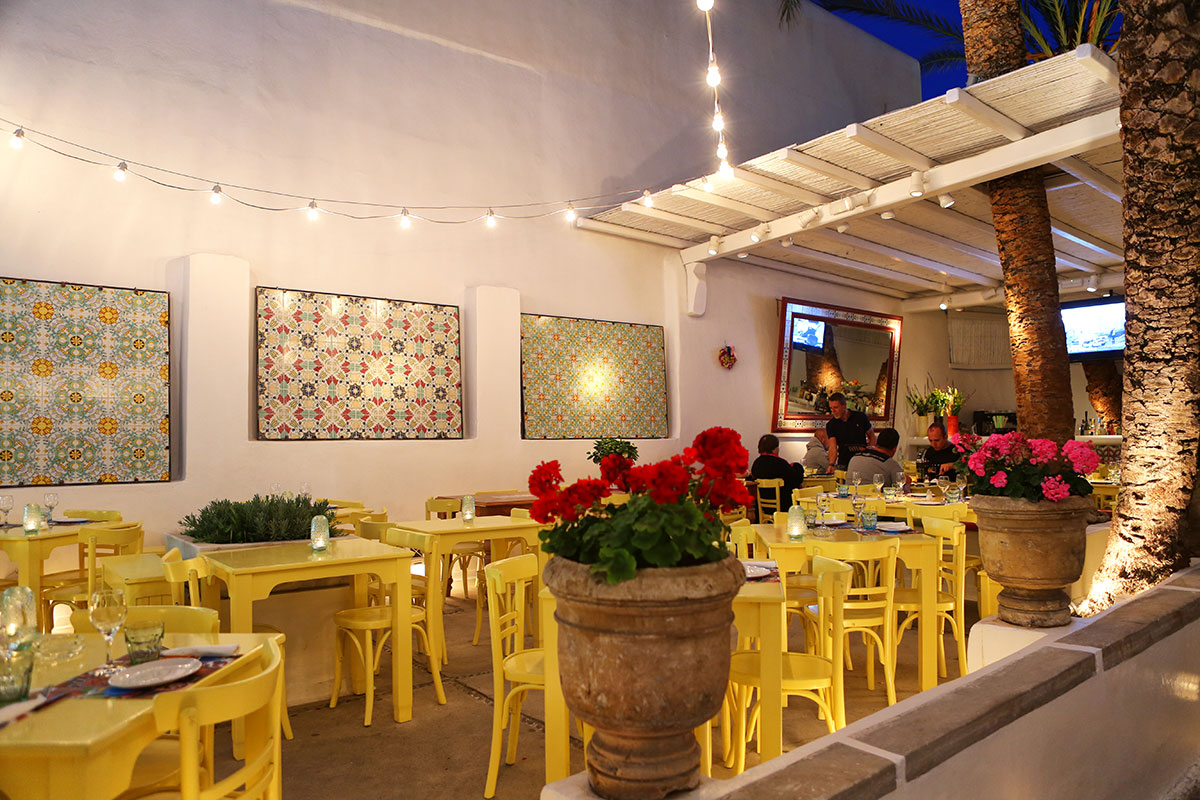 5-Interni
Matogiannia, Mykonos Town
The most beautiful garden in Matogiannia is inspired and designed by renowned designer Paola Navone, combined with a personal touch from owner Nikos Varveris.This is an ideal destination for dinner & drinks in the heart of the island, set against the Cycladic sky.The Kitchen is basically Mediterranean, coupled with flavors from around the world and comes with a wide range of wines with selections from all five continents, while the menu is updated every year with fresh ideas and a vital element of high quality ingredients.
6-Ling Ling by Hakkasan
Mykonos Town
Bar restaurant
One of the most stylish courtyards in the Chora of Mykonos houses the excellent restaurant "Ling Ling" that operates under the auspices of London's Hakkasan. Contemporary Cantonese cuisine, beautiful people, excellent service, top-shelf drinks at the bar and a "clubbing" feeling.
7-Remezzo
Mykonos Town|Kaminaki
Restaurant & Cocktail Bar
The legendary bar REMEZZO, world-known for its music and parties, became the meeting point of international jet setters for the decades to follow. Partying till dawn has always been the thing to do in Mykonos and Remezzo has always been one of the hottest places to be for experiencing unforgettable nights. A world of greek gastronomic delights.
8-Nesaea
Mykonos Town|Alefkandra Sq.
Farm to Table
At Nesea, a simple place with a Cycladic aesthetic with an infinite view of the sea, works of taste are served, such as sea bream sashimi with garlic, oil and ginger, cucumbers, sottî and a sprinkling of fish milk or a touch of beetroot , roots, raspberries, pickles, "Xinotyri" cheese from Mykonos and frizzy black cabbage pesto and buffalo chop from their own farm in Kerkini. Offering farm to table cuisine in its most creative and elegant version .Chef Christos Athanasiadis serves casual comfort food for lunch and transforms Nesaea into a posh hotspot by night, serving elevated Greek cuisine with an amazing menu and a great wine list.
9-Nammos
Psarou Beach
Beach bar & restaurant
Tantalizing tastes enlivened with the most exquisite ingredients man can find and the prolific genius of the Nammos' chefs. On the core of all the Nammos' culinary creations is the zeal and devotion to great food paired with the most eclectic ambiance. If food is your focus, then you are in culinary heaven. Freshest seafood, local Greek dishes as well as exotic Asian fare with an unbeatable seafront view. For the party people, Nammos has a stream of exciting events.
10-Soly Mar
Kalo Livadi
Beach bar & restaurant
The Sol Y Mar is a beautiful all-day tavern located on the beachfront of Kalo Livadi, one of the most popular and beautiful beaches of Mykonos.During the day, the restaurant rolls out a beach service on the beachfront, where guests can relax with a drink. There is a charming beach bar next to the restaurant which serves refreshing fruit juice, mojitos, tasty finger food, sandwiches and strawberry daiquiris under the shade of big trees. The restaurant is an equally charming place with large tables set under an exotic gazebo. The cuisine is the typical Mediterranean. Pure olive oil, fresh herbs and vegetables, as well as fresh seafood right out of the day's catch gives an authentic Mediterranean touch to the dishes. Fresh BBQ fish is one of their specialties.