Indonesian Cuisine
---
We all know Indonesia and the main characteristics of the country, that's exotic in every way possible, from architecture to foods. Although there are many things to be said here about various topics, we're going to focus only on the food part – there's much more to the Indonesian cuisine and their traditional Indonesian meals that you can think of and it would take us days to cover everything so we're going to focus on the more unknown dishes.
It's a very rich culture with influences from all over the world, like Europe o Middle East, but mainly from China.
Please check Haute Retreats properties in Bali https://hauteretreats.com/area/bali/
Indonesian snacks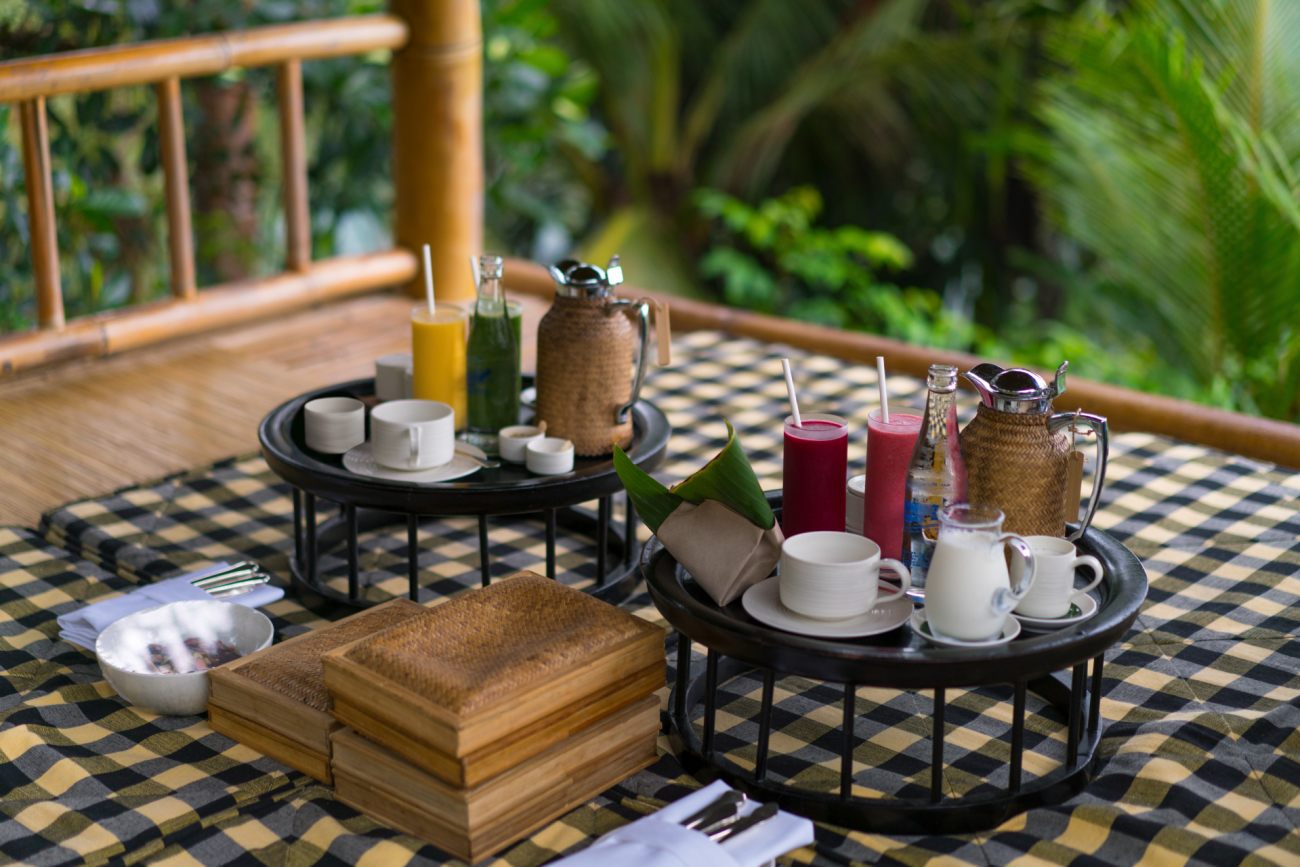 Before the main course let's have a snack first. You can have the most common ones that are based on rice, like Arem-Arem or Bakcang. Arem-arem is made out of rice cooked with coconut milk and salt that is put on a banana leaf and on top of it comes a mixture of meat, tomatoes, carrots and spices like garlic, onion, chilies and lemon grass. Afterwards the banana leaf is press and rolled until it is solid and it goes in the oven for one hour.
It is served cold usually. The Bakcang it's something similar: rice with different fillings or mixtures which is wrapped in bamboo leaves tied with twine. These small packets are then boiled for a couple of hours depending on the filling, which canvary from pork or chicken meat to mushrooms, eggs or peanuts.
Read Also http://www.travelluxuryvillas.com/5-of-the-worlds-best-beaches-to-discover-this-summer/
Indonesian main meals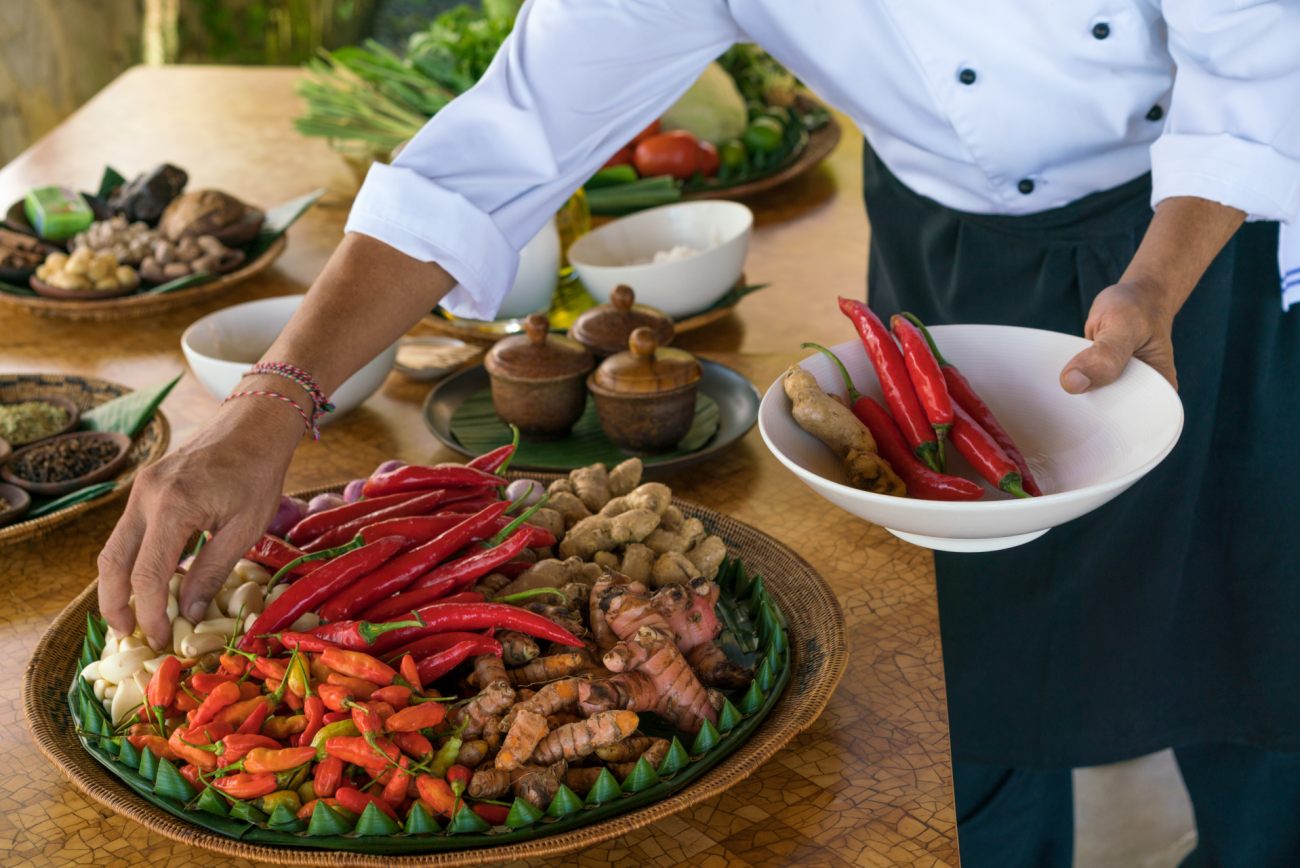 After a small snack you'll be left wanting for more, I can guarantee that. So let's get down to business. If you want to try a soup, then you must go with the Mie Bakso. The ingredients used for this one you would use to make 3 or 4 different soups. It's made out of beef meatballs served in a bowl with beef broth, vegetables, egg, tofu, noodles, Chinese cabbage, bean sprout, fried shallots and celery. I know you're thinking about how big the bowl is so you can put all these together, but that's not important. That extraordinary taste is important. You will feel 90% of the tastes available in worldwide cuisine in a bowl filled with Indonesian and Chinese history that will make you wonder how is this even possible, to get such a good taste from all kinds of different ingredients. Well, don't lose too much time meditating on this because your soup will get cold. Another soup you will enjoy is the Ketupat sayur which, in a simplistic way, is a chicken soup with rice. But nothing is simple in the Indonesian cuisine and as all the others dishes, this one also has lots of ingredients. It's made out of pressed rice with chicken (or beef) soup on top of which you add coconut milk, jackfruit, labu and krupuk. It's impossible to recreate this at home! If you're not a big fan of soups don't worry, we have some tips for you also. The only thing that is similar to soups (and all Indonesian dishes in general) is that you'll receive a plate that's full and that has at least 10-15 ingredients. Except for those situation where you don't receive a plate and instead you receive a "plate" made out of leafs, like you would if you order Betutu. This is a Balinese dish made out of steamed chicken or roasted duck and it's one of the best spiced dishes you can find. If it's not spicy enough, you can order another sauce out of onion, red chili peppers and coconut oil, but we think that the normal version would be enough. You will find this in every menu in Bali, from small restaurants to high-end, fancy places; it's one of the most popular traditional meals. Another very good meal is the Lawar – it's a mix, like everything else, of pork minced meat, vegetables, coconut oil and herbs like lemon grass, shallots, garlic and kaffir lime leaves. It's served hot and usually with rice; you'll find this at every restaurant and warung around Bali so don't miss out, go and grab a plate because it's definitely worth it.
Traditional Indonesian meals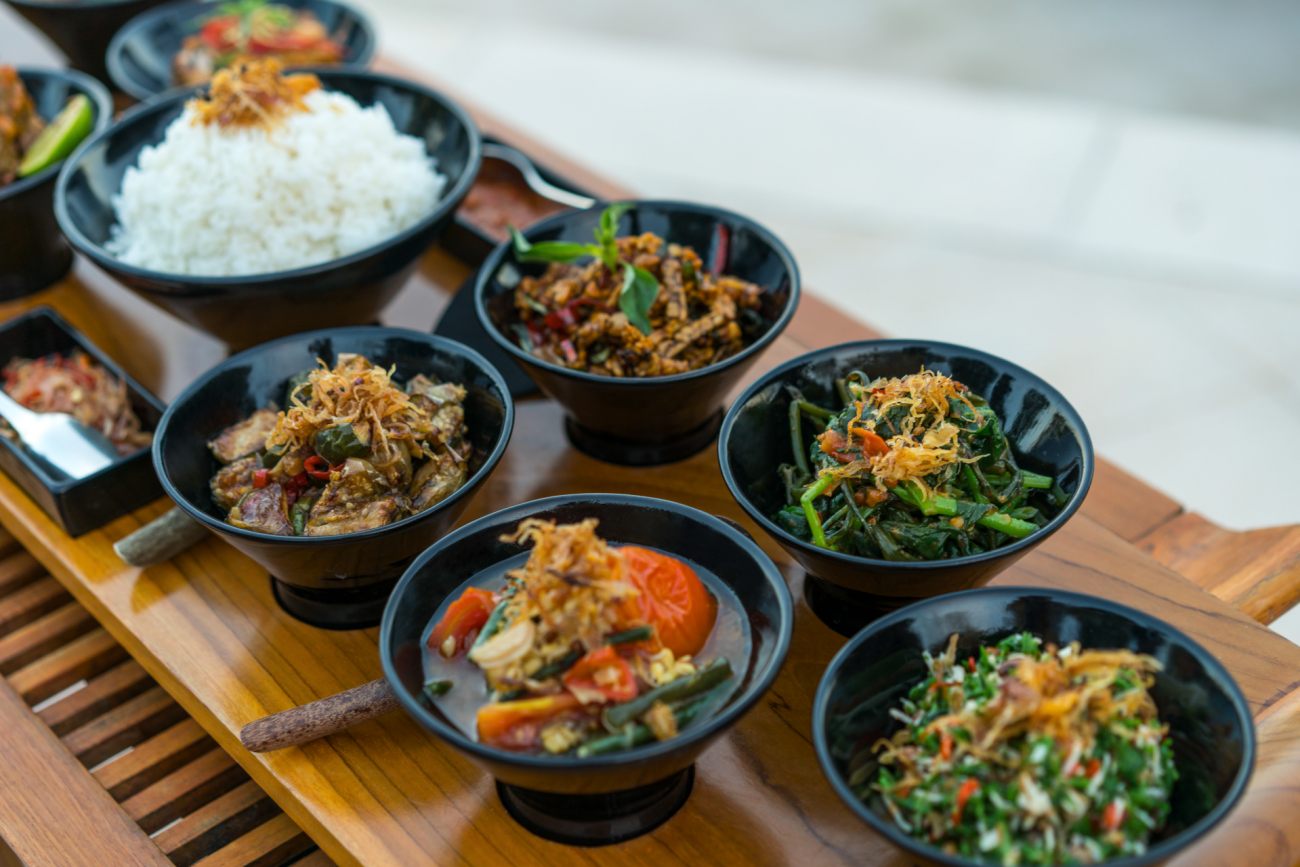 That's it with our short experience in the Indonesian cuisine. Be sure to try the meals we have recommended but also don't be afraid of experiment new ones. You will find lots of unique plates and never seen before combinations of meat, herbs and spices which will do nothing else but tickle your senses (in a good way). After you get home don't forget to share your exotic experiences with your friends. It's definitely worth it and this way maybe they will start appreciating more the Indonesian cuisine and change the general perception because we think that it's seriously underrated by most people.
Contact Haute Retreats to plan a trip to Bali, our team of expert travel designers can recommend the best villas, luxury resorts, restaurants and activities for your interests.