Are you ready to focus your taste buds on a journey of a thousand flavors among the typical Caribbean dishes?
With its indigenous, African, Creole, European, Cajun and, more recently, Asian influences, discovering the culinary secrets of the Caribbean is already a dream trip in itself. Let's see together which are the 6 Caribbean Specialties not to be missed.
1-Lobster in "criolla sauce"
With all those islands and all that ocean available, it is no wonder that the best of Caribbean cuisine is based on fish. Of all the dishes, lobster reigns supreme in "criolla sauce": a dressing based on onions, coriander, beets, boiled potatoes, avocado, tomatoes, sweet peppers, chili pepper and lime juice. It has a very particular taste but I assure you that this dish is to be tasted. Criolla sauce is one of the best known and most used sauces in Argentina. In the traditional version and in its various variants, it is also widespread in other Latin American countries to accompany traditional grilled meat dishes such as asado or churrasco, but it is also a tasty condiment for other preparations such as sandwiches and soups.
2-Roasted pig
Handed down by the ancestors of Spanish origin, this dish is common in all the Caribbean, but it is in Puerto Rico that it is best enjoyed. Lechón asado, or roast pork, is served with beans and rice, and must be tried from one of the stalls on the island's streets. A barbecue is used for cooking. To obtain a tasty and tasty meat, prepare a dry rub or a mix of spices to be massaged on the meat before marinating. A recipe that challenges typical American barbecue dishes without the risk of causing international crises. Indeed, perhaps it will help the government to grow the small pig farms.
3-Pepperpot
It is a sort of exotic peperonata, a volcano of flavors and colors. Its scent pervades the beaches of all the Caribbean, because it is cooked over a low heat, generally outdoors, in large pots and pans: this favors the amalgam of the flavors of all the ingredients. Among these we find eggplants, okra, courgette patisson, potatoes, and more or less any other vegetable that grows luxuriantly in the tropical climate. This dish is usually reserved for special occasions, because it needs to cook for several hours, and mostly eaten on Christmas day or during the Christmas holiday season, and sometimes on Boxing Day. Like the original Amerindian version it is usually made in a large pot and can be heated and eaten for several days because the Cassareep starts storing the meat.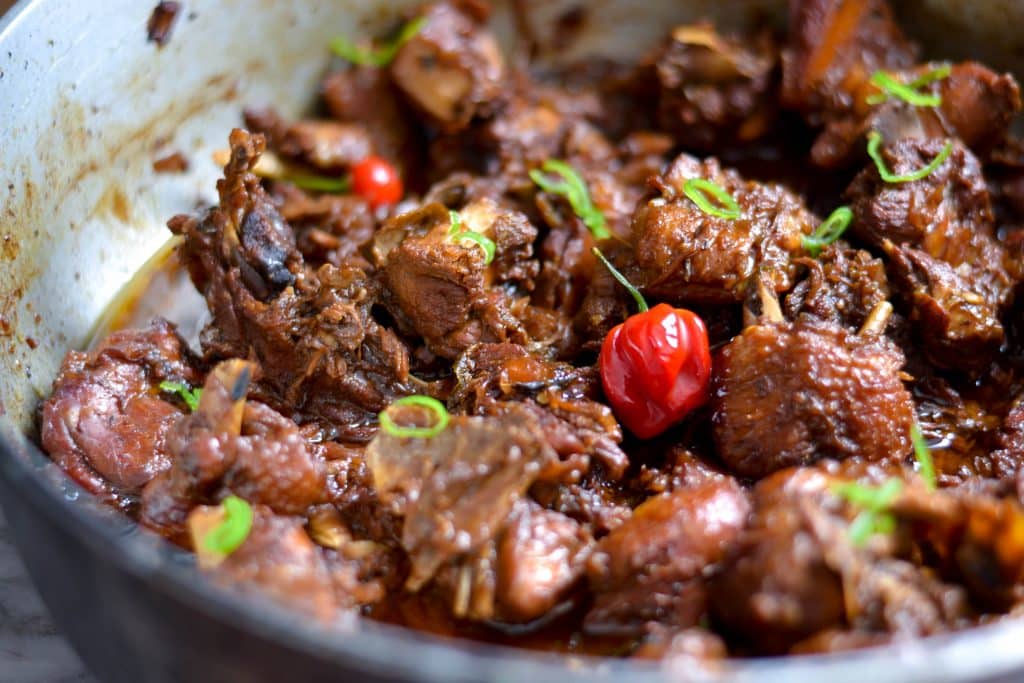 4-Budin noir
Budin noir is also called Morcilla de Guadalupe and is basically a local variation of Anglo-Saxon black pudding: a black pudding made from pork and local exotic spices. Morcilla can boast a long tradition in Spain, especially in Extremadura where pork butchery products are very well established. The center of production is in the province of Cáceres: here every peasant family raised one or two pigs and no part of this animal was wasted. When slaughtering a pig, blood was also considered an important food, so making a morcilla was one of the ways to preserve it during the winter months.The Guadalupe morcilla is a product that can be found for sale in local markets and is offered by some bars like tapas or in the restaurants of the city that want to make local products known.
Read Also http://www.travelluxuryvillas.com/the-culinary-experience-in-turks-and-caicos/
5-Bokit
This type of sandwich is found everywhere on the island of Guadalupe, especially near the beaches most frequented by tourists and local people. The peculiarity is that they are fried in sunflower oil, and then cut in two and prepared as sandwiches with a filling of meat, ham, cheese, fish or vegetables. Excellent for a quick snack, even if their digestion is a little slower … This Antillean specialty, which originates from a fried bread called "johnny cake", would have been borrowed from the settlers of New England to the Amerindians, and it seems to have appeared after the abolition of slavery, around 1850. At that time, workers too poor to buy bread adapted this recipe, preparing unleavened bread baked in a hot oil casserole. Every year, in July, the village of Deshaies organizes a bokit festival, which is an ideal opportunity to have fun while enjoying this specialty.
6-Mama Juana
If you pass through the Dominican Republic, you should try the national drink: Mama Juana. With a sweet taste similar to that of the Port, this traditional alcoholic drink contains dark rum, red wine, honey and aromatic herbs. Mama Juana is a liqueur based on various types of herbs, spices, roots and twigs that are macerated in a mixture of Rum, red wine and honey. The preparation of the alcoholic drink is very easy and it only takes a few minutes to sip it in company. In a liqueur bottle the wine is left to macerate for a week with the aromatic herbs, usually cinnamon, maguei, canelilla, timacle, marabeli, guayacàn, clavo, dulce, anis, pasas and pega stake. During the entire maceration time the bottle must never be covered with a stopper.
Read Also http://www.travelluxuryvillas.com/5-reasons-to-visit-turks-and-caicos/