Mykonos is one of the most popular summer destinations in Europe, and the reason is obviously its fine golden sand beaches. Some beaches remain pleasantly unspoiled. Those with beach hotels attract families. All offer wonderful swims in calm and crystal clear waters and many are perfect for water sports. Mykonos is appreciated and frequented by international tourism also thanks to its magnificent golden sandy beaches that satisfy every type of traveler.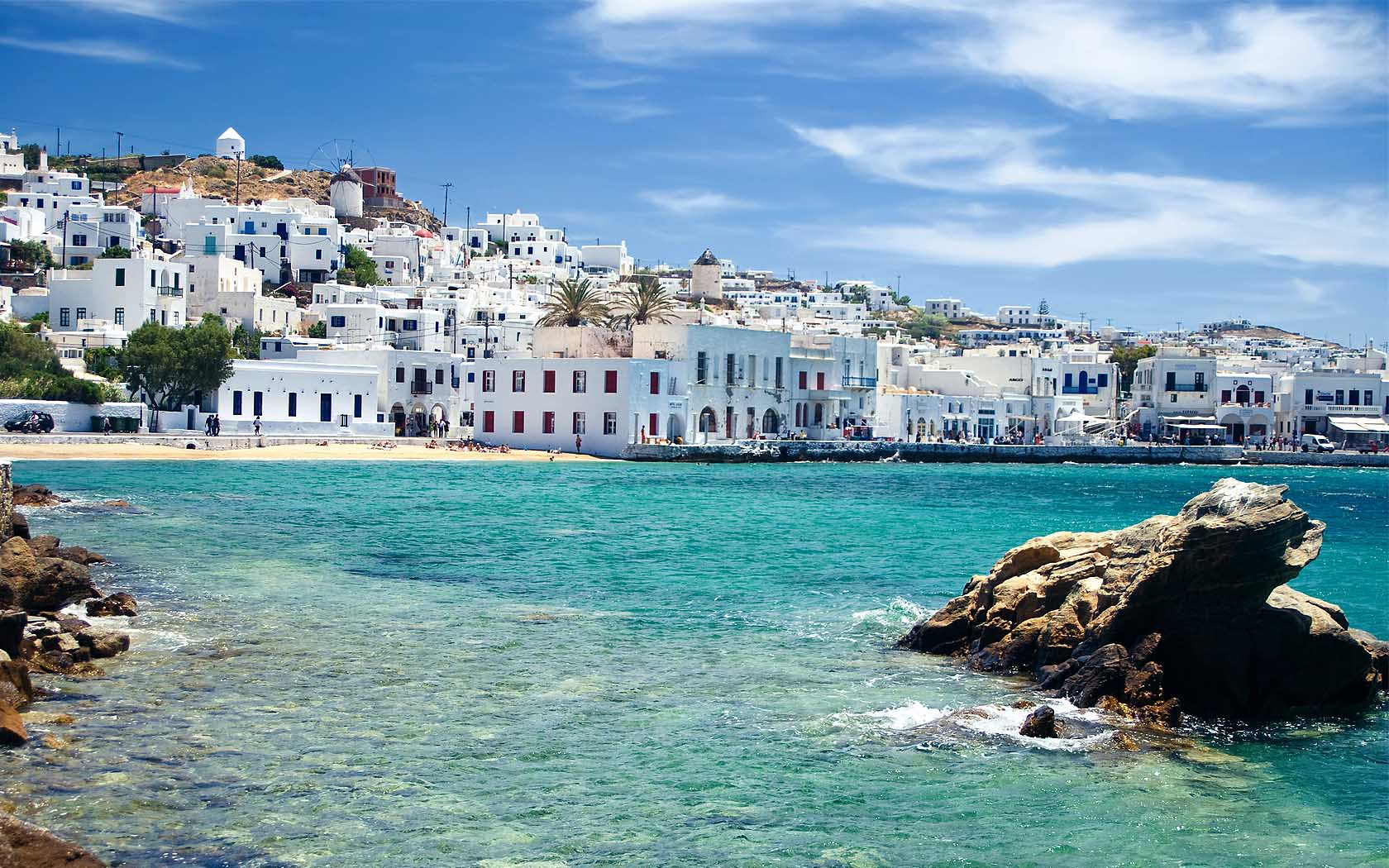 1-Paradise Beach
On this beautiful fine sand beach that overlooks a transparent sea and with incredible shades of blue you go especially to dance. The holidays start early, and end very late. It is the beach of young people, suitable for those who love being among people, dancing, seeing and being seen. It is a super-equipped beach where there are establishments, bars, restaurants and equipment rental for nautical activities. Among all the beaches of Mykonos, Paradise Beach is certainly the most famous and popular on the island.
2-Agios Loannis
It is located near Ornos, a few kilometers from Mykonos Town. This beach is considered one of the most beautiful in this stretch of coast because it has very fine sand and low, crystalline waters also suitable for families with children. The beach of Agios Ioannis is divided into two parts by the rocks, there is a part equipped with establishments, sunbeds and umbrellas, and another free part. But this beach is also famous for its sunsets, among the most beautiful on the island, thanks to the suggestive view of the island of Delos, which is located in front. The beach is perfect for those who prefer peace and relaxation. Here you will find many different restaurants, taverns with delicious Greek food and many opportunities for water sports, from scuba diving to surfing in its turquoise waters. It is also worth visiting the feast of San Giovanni at the end of September, very famous and with an excellent gastronomic offer.
3-Agios Stéfanos
If you are staying in Mykonos town and don't want to travel too far to go to beaches, Agios Stéfanos beach is perfect. It is the closest beach to the capital, it is a beautiful wide and clear sand beach, protected from the wind with a crystal clear and turquoise sea. It is quite crowded but you will still manage to carve out your space. On the beach there are all the bar and restaurant services, as well as the rental of sunbeds, umbrellas and nautical equipment.It is suitable for families, with its soft sand, turquoise water and the splendid view of the New Harbor and its luxury vaporetti. A small chapel on the edge of the beach offers a Greek touch and the tavernas on the beach prepare delicious fish dishes for their guests.
4-Elia
This beach is located a few kilometers from Super Paradise and is the longest and probably also the most beautiful in Mykonos. Its clean sand and crystal clear waters in recent years have earned it various awards including the Blue Flag as the best beach of the year. Elia beach is also the last taxi boat stop and this makes it always quite . The beach is very large and well organized, with several well-spaced establishments where you can rent sunbeds and umbrellas, bars and a mini market. It is certainly the perfect beach for those who want to stay away from parties and too many tourists. Elia is a 25-minute drive from Mykonos Town. It can also be reached by bus, departing from the Porto Vecchio. It is a large family beach – there are playgrounds, a water sports center and shallow waters.
5-Paraga Beach
It is a beach that has both a quiet and a more party area. The beach divided into two crescents by a cliff. The beach is very beautiful and super equipped and, depending on the area, you will find establishments, bars, clubs and restaurants. Paraga is located near Paradise Beach and can be easily reached by bus or a 15-minute walk from Platis Gialòs. The sea near the shore is shallow and this makes the beach ideal for children who can play safely on the shore. The smooth rocks on the left side of Paraga beach form small pools of sea water where you can enjoy the sun. Do not miss a walk in the rocky surroundings of the bay, from where you can admire the splendid panorama. From here you can walk to the famous Paradise Beach. This is one of the most popular beaches in Mykonos. Those looking for adrenaline can go scuba diving or windsurfing. A bamboo fence on one part of the beach offers protection from the wind.
please email info@hauteretreats.com if you want to receive a list of luxury villas in Mykonos.