Phuket is the largest island in Thailand, but that is not why it is preferred by one in three tourists who come to this country. But without a shadow of a doubt, what most attracts tourists are its paradisiacal beaches, not forgetting the famous James Bond islands.
1-Patong Beach
Patong Beach is one of the main tourist attractions on the island of Phuket, being one of the beaches in Phuket that has the most activities and which has the greatest offers in the whole city. With 3.5 kilometers of white sandy beaches and crystal clear waters, it is worth paying a visit to Patong Beach and enjoying all that this heavenly place has to offer. . Patong beach, as beautiful as it is, is inevitably crowded. Freedom Beach located behind the promontory at the southernmost end of the famous Patong is an excellent alternative. It is a picturesque beach of soft white sand, bathed by a crystalline sea and a sandy and sloping seabed. The coral reef is particularly rich in marine life and in fact this beach is one of the best in all of Phuket for snorkeling.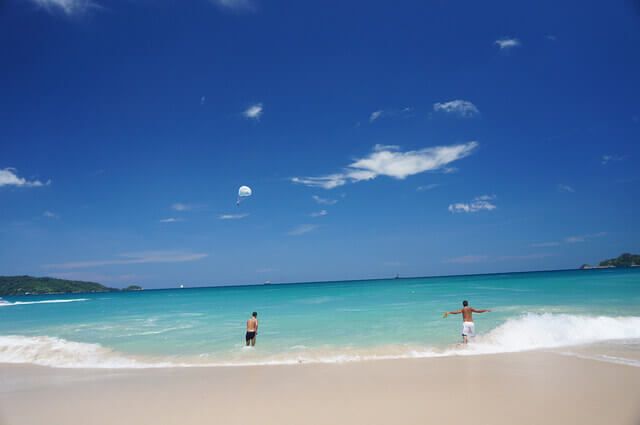 2-Kamala Beach
If you are looking for heavenly beaches for your holidays, go straight to Kamala Beach, one of the most spectacular on the island and boasting a truly incredible setting. It is one of the quiet beaches of Phuket that most attracts our attention, a mandatory stop, since moreover it does not tend to be very crowded. Kamala Beach is a popular destination for Scandinavian families and travelers. It used to be a very discreet beach with only Phuket Fantasea as an attraction, but its popularity exploded with the opening of the new Cafe Del Mar beach club. Take a dip in the crystal clear waters of Kamala as you sip a refreshing glass of sato and watch the sunset spectacular. You will be speechless.
3-Kata Beach
Kata Beach is characterized by being divided into two different beaches: Kata Yai and Kata Noi, quiet beaches of Phuket that are located next to each other, in a heavenly environment, reachable on foot or even by swimming. Kata Beach is the most popular beach in Phuket after Patong and just before Karon Beach. Kata enjoys a superb sandy beach with an amazing blue sea and a beautiful island in the middle of the bay which makes for great sunset photos. This coastal paradise located in the Phuket region is surrounded by a family of islands and archipelagos that make up a large part of the tourist area in southern Thailand. Its spectacular visual panoramas will delight your eyes and elevate your gaze to an unprecedented maritime horizon.
4-Bang Tao Beach
Bang Tao beach is for many the most beautiful beach on the island of Phuket, so don't hesitate to go there and judge for yourself. Located right in the city center, it has more than 8 kilometers of white sand and some of the most spectacular resorts in all of Thailand. A place not to be missed. Bang Tao Beach is one of the longest beaches in Phuket, halfway between the airport and Patong Beach on the west coast of the island. With this beautiful stretch of sand, Bangtao has long been home to the famous Phuket Lagoon. This immense complex is home to some of the largest and most luxurious resorts on the island such as Banyan Tree Resort, Dusit Thani Laguna Phuket, Angsana Resort and Outrigger Resort.
5-Cape Panwa
Cape Panwa Beach, located 10 km from the island of Phuket in the far south of Thailand, is home to one of the largest marine biological parks in Asia. Along the southern coast of Thailand you will be able to appreciate unprecedented marine biodiversity. Strolling along the coast you will have access to magnificent coral reefs and you will be able to learn about the most exotic marine species of the Asian continent, something that other areas such as the James Bond Islands do not offer you. Its hotels are generally on the cliff, which offers exceptional views. In this exotic natural beauty one can encounter the most impressive aquatic species of Asia. In addition, you will have the opportunity to interact with the different local ecosystems without having to dive into the waves.
6-Surin beach
If you want a quiet place this is ideal. There is the perfect current for those looking to surf, snorkel or kayak. Its clean, temperate waters and no boats or jet skis make it a favorite of many. The beach here is very good, but short, for coastal walks or games with children, there is hardly any. In the high season it is very tightly made sun beds, and calling it sparsely populated is just not possible. The sand is very fine, almost white, pleasant to the touch. The slope of the bottom of the fort, great depth. The water is clear, you can even snorkel along the stone beach edges. Great waves, especially in the off season, so a lot of surfers. Directly on the beach there is a bar, surfboard rentals, jet skis and other activities.