Ibiza is by far the funniest island of the Balearics, the perfect place for those in search of nights of madness but also of corners of peace, between solitary coves and rocky coves. Ibiza will leave you breathless with its unspoiled landscapes and a crystal clear sea that has nothing to envy to that of the other islands of the Spanish archipelago.
Playa Ses Salines
Playa de Ses Salines, a flat tongue of golden sand located in the southern part of the island, in the Protected Natural Park, and which represents the beach of young people looking for meetings, aperitifs and sunsets. Its beach bars have become real institutions on the island, meeting places for clubbers and hippies who love to wait for the night with cocktails in hand and feet in the sand. The sea, more crystalline than ever, invites to regenerating and relaxing baths. The large parking lot near the beach allows you to arrive comfortably by car, leaving Eivissa towards the airport; alternatively you can arrive by taxi or public transport.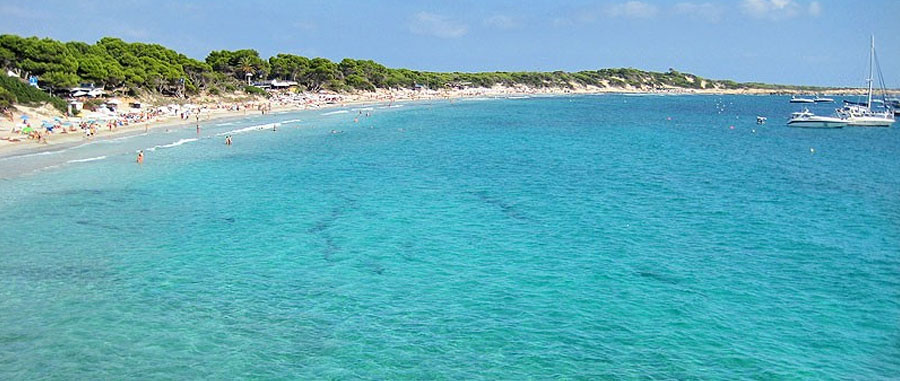 Cala d'Hort
Popular and sought after, Cala d'Hort is one of the most popular beaches in Ibiza, the perfect place for an aperitif at sunset with a privileged view of the islet of Es Vedrà, which like a silver arrow appears in the center of its emerald waters . Located about 11 kilometers from Sant Josep de sa Talaia, the beach boasts a magnificent natural inlet, a partly sandy and partly gravelly beach and a decidedly unique atmosphere. Cala d'Hort can be reached by car or public transport; the last stretch must be walked on foot through a short path that goes down to the sea.
Islote de Es Vedrà
The limestone pyramid protruding from the sea in front of Cala d'Hort beach and together with the islets of Es Vedranell and the seven Es Illots de Ponent forms the nature reserve established in 2002. Its great environmental value makes it one of the greatest natural attractions on the white island, a mysterious place surrounded by a thousand legends: reign of sirens and sea nymphs, or the last fragment of the submerged civilization of Atlantis. If you are tired of the summer crowd and are looking for secret coves where to dive, reach it by sea or by guided boat excursions. L'Islote de Es Vedrà can be reached by sea or with guided excursions departing from the port of San Antonio.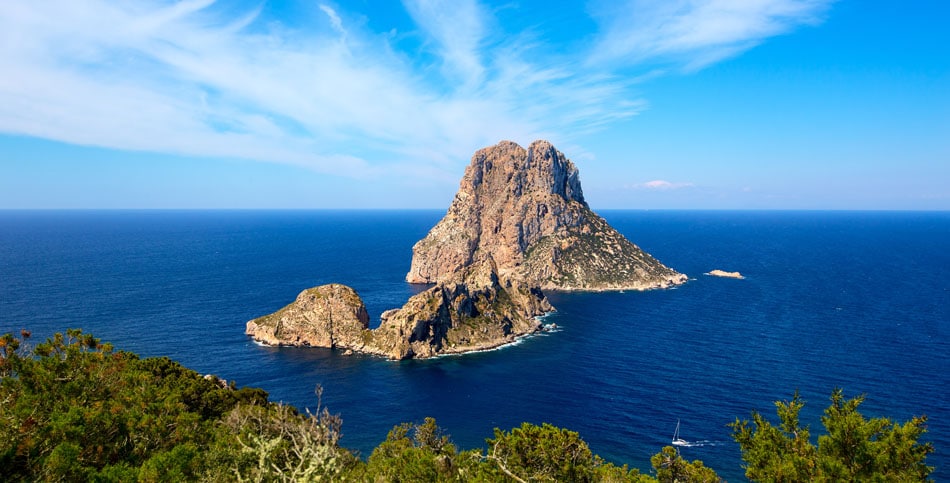 Playa de Compte
If there is a magical location, the result of the union of two beaches, this is the now famous Playa de Compte. With your feet sinking into the soft white sand you will enjoy the spectacular view of the islands opposite des Bosc, sa Conillera, s'Espartar and ses Bledes. This beautiful equipped beach in Ibiza has been awarded the Blue Flag and is part of the Conillera Natural Area of Special Interest. Getting to Playa de Compte is very easy both by car and by public transport on the island.
Cala Bassa
Sheltered from the winds, with the seabed gently sloping into the sea, equipped with crystal clear waters and soft white sand. Cala Bassa, awarded the Blue Flag, is a beach of about 200 meters characterized by a tropical face, suitable for the whole family and perfect for lovers of sunbathing and relaxing in comfort. Its inlet is charming, bordered by low cliffs and dotted with greenery. Cala Bassa can be easily reached by car or by public transport made available from the island; there is also a campsite.
Cala es Portixol
Es Portixol is the most solitary and natural of all the coves of Ibiza, with its crystalline sea with cerulean shades, the green maritime pines all around, a handful of "chamizos" and that tremendously fascinating lost beach air. Cala es Portixol is a real wonder of nature, where you can relax freely on a fine golden gravel beach. Getting to Cala es Portixol is not child's play. After parking not too close, you take a narrow and tiring path through the greenery.
Playa d'en Serra
Playa d'en Serra is one of the smallest, most hidden and delicious handkerchiefs in Ibiza. A cove with a spectacular seabed ideal for long snorkeling sessions and regenerating dives, not to mention the wonder of the landscape characterized by virgin cliffs that surround it all around, ideal for trekking. Playa d'en Serra beach is easily accessible by car via a dirt road from Portinatx or Sant Joan.
If you are interested click this link to see the best villas in Ibiza http://www.travelluxuryvillas.com/best-ibiza-villas/