From the sandy Caribbean beaches to the edges of coral reefs, perfect for snorkeling and diving, to the magnificent huge beaches beaten by the waves, there is a beach in Costa Rica for all tastes. Some are trendy and full of services, such as those from Samara or Manuel Antonio. Others are wild and undiscovered like those on the southern Pacific coast. Here are the top 10 beaches in Costa Rica for all tastes.
1-Playa Chiquita
Stretched along the fantastic Caribbean coast, Playa Chiquita is located southeast of Puerto Viejo and is about four hours' drive from San Jose. Huge and almost deserted, Playa Chiquita is perfect for those who want to enjoy the fine sand and swim alone in clear waters. The beach is made up of several small bays, so it's easy to find your quiet stretch of beach with no other soul in sight. The fact that there is no direct road access to the beach, accessible only by numerous paths, helps to keep the beach fairly isolated. The beach is perfect for snorkeling or diving in coral reefs. There isn't a real shopping area in the village but there are a few restaurants and services along the main road.
2-Playa Santa Teresa
Santa Teresa is a picturesque town on the Nicoya Peninsula, Costa Rica, about 93 miles from San Jose. Playa Santa Teresa is a large expanse of fine white sand open onto the Pacific Ocean and surrounded by verdant hills and lush tropical jungle. While the beach is isolated and still undeveloped, it has recently become more popular and it is not easier to spend the day enjoying the beach alone. Some of the main attractions are the rocky tide pools and two wonderful surf spots, La Lora and Suck Rock, known for constant waves all year round. The famous waves are the reason for the annual international surf competitions of Playa Santa Teresa. If you don't like surfing, the beach is also perfect for swimming, hiking, snorkeling, sailing and is an excellent starting point for deep sea fishing.
3-Playa Punta Uva
Located about five miles from the bustling city of Puerto Viejo on the picturesque Caribbean coast, the peaceful Punta Uva beach is famous for calm waters, fine white sand and magnificent cliffs. Relaxed and peaceful, the beach is perfect for those who want to get in touch with nature, teach children to swim, snorkel in coral reefs or take a walk in the surrounding jungle to see monkeys and many types of birds. There are no golf courses or luxury resorts. However, there is an extraordinarily beautiful nature, characteristic and charming hotels and hotels and a wonderful mix of people of all colors and national origins.
4-Playa Hermosa
Located in Guanacaste, just 20 minutes from Liberia's Daniel Oduber International Airport, Playa Hermosa is true to its name with its idyllic scenery and lush nature. This fine gray sand beach is almost two kilometers long and is surrounded by large rocky volcanic crests and a lush tropical forest. It is relaxed, secluded and rarely crowded and can be enjoyed by everyone, from those who love a bit of solitude to children who want to splash around in warm waters. The beach is ideal for swimming, snorkelling and scuba diving and the calm waters are perfect for kayaking, windsurfing, sailing or jet skiing.
5-Uvita Beach
Uvita, a peaceful village about 11 miles from Dominical in the southern Pacific region of Costa Rica, is characterized by a slow and relaxed life, magnificent tropical forests and endless expanses of beaches. Uvita Beach is a wonderful vacation spot for those who prefer long walks on the sand. The tall majestic palms offer welcome shade to bathers enjoying the beautiful white sands of Uvita beach. The beach is perfect for surfing, swimming, snorkeling and diving. From May to October, the beach is an ideal place to watch the magnificent Olive Ridley and Hawksbill turtles lay their eggs in the sand before they return to the sea. The beach is also a good starting point for kayaking trips to nearby bird-filled mangroves and for observing humpback whales that migrate from December to April.

6-Playa Carmen
Stretched between Malpa and Santa Teresa, Playa Carmen is a world-renowned surfing beach, a huge expanse of white sand known for ideal conditions for surfing all year round and a variety of breaks. Breaks and breaks are less powerful than other surf destinations in Costa Rica, making it perfectly suitable for beginners. The beach is popular with both short and long boarders, with long straight and short left, and as you go further north the breaks get faster and the walls steeper. Sand bars also change frequently. The wide expanse of beach is also famous for horseback riding and hiking and has long, completely deserted stretches, offering space for solitude.
7-La Playita
If you continue to walk along the wonderful sandy beach of Playa Espadilla, just outside Manuel Antonio Park, beyond the rocky promontory, you will find one of the most famous gay beaches in Costa Rica. It is not accessible within an hour of high tide, so be careful not to lose track of time while enjoying the sun. This small tropical beach surrounded by the jungle was so isolated because it was known for its "optional clothing" policy, but the new hotel behind the beach put an end to this. However, young gays enjoy its fine sands and surf protection while they are shaded by ancient tropical trees.
8-Tamarindo Beach
Tamarindo is a small town on the Costa Rican North Pacific coast of Costa Rica on the Nicoya Peninsula. Surfers are attracted to Tamarindo. Playa Tamarindo, the main beach of the city, is long and rocky and is famous for its excellent waves at the estuary mouth. Surfers should be aware of strong currents, especially when the tide is falling. Much of the beach is fantastic for those who want to learn to surf. The highest waves can reach 12 feet in November and December.
9-Playa Conchal
Playa Conchal, a true beach paradise, is located about a kilometer south of the town of Brasilito in Guanacaste, on the Pacific coast of Costa Rica. This splendid stretch of pure white sand is surrounded by tall swaying palm trees. The sand is fresh underfoot as it is made up of tiny shells or crushed shells, which give the beach its name. Its shallow waters have an intense turquoise color that is not often found on the Pacific ocean. This famous beach can get crowded on weekends, but on business days, as you walk away from its restaurants and bars, you can find deserted places to really enjoy paradise and swim and snorkel in peace.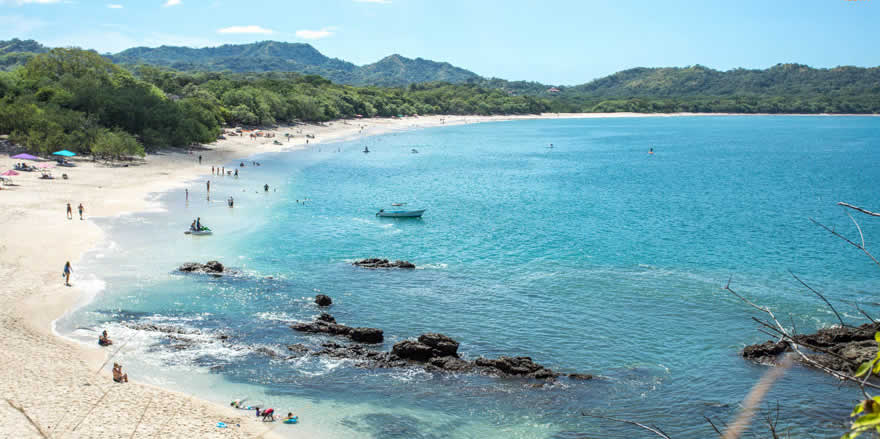 10-Playa Biesanz
Located in Manuel Antonio, on the central Pacific coast of Costa Rica, Playa Biesanz is a postcard jewel of a beach hidden in a small cove around Quepos Point and surrounded by an ancient tropical rainforest. Its creamy and fine sand is pristine and the incredibly clear water, which makes it perfect for snorkeling. There is an interesting underwater rock formation to explore. The beach is not easy to find, so you may find it quite deserted, with only a few inhabitants under the big shady trees. The location of the beach in the protected bay makes it one of the few Pacific beaches without waves, so it's great for swimming.