Dubai, at first glance, appears to be a destination doused in glimmer and dazzle. But, the reality is that it has nature, culture, and history everything in right measure. But if you're looking to boil down Dubai to a list of top 10 attractions, this would be an overwhelming task. In other words, if you're not sure what to include or skip from the list, go ahead and take inspiration from our suggestion of best places to see in Dubai.
1-Burj Khalifa
There isn't probably any Dubai landmark that is as famed as this towering 828-meter-high structure. Travel any part of the city; this mighty sight will accompany you throughout your Dubai expedition. It's sky-high and most of the attractions here are the choicest, highest and first of its kind in the entire world. One of the best ways to experience this colossal structure up-close is via climbing to its observation decks at 124 th or 148 th SKY level. This allures you with the most stunning 360 degree views of the city skyline and beyond. Moreover, you can take your dining experience to next level by dropping into the highest of its kind At.mosphere (on 122 nd level), Armani Mediterraneo, and Armani Ristorante (both part of Armani Hotel).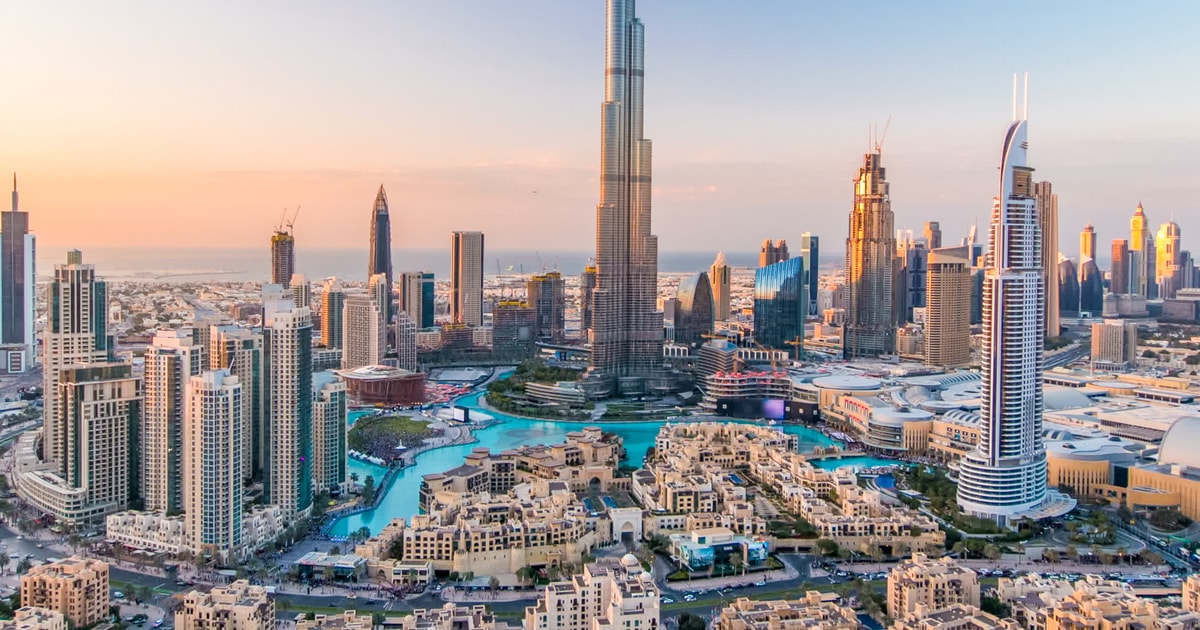 2. The Dubai Mall & Dubai Fountain Show
Malls are a common sight in Dubai. While each of them is distinct in its own right, the Dubai Mall is special and colossal of all, making it an unmissable attraction on any Dubai visit. It has over 1200 outlets, 200 plus dining choices, and mostly, an array of amusement / leisure choices to suit every interest. Must-experiences among them are:
Dubai Aquarium and Underwater Zoo: The largest of its kind aquarium boasts over 33,000 marine creatures in its massive 10-million-liter tank. See rays, sharks etc freely swimming around here up-close! You can further walk along its 48-meter-long underwater tunnel and participate in many amazing experiences such as Dive with
Sharks, Shark Encounter, Shark Walker, Glass Bottom Ride, and Cage Snorkeling.
KidZania Dubai: A visit here is staple for any Dubai trip joined by little ones. This miniature metropolis inside Dubai Mall is the perfect place for your kids to experience their favorite adult jobs. Whether they want to become a pilot, bake a cake / pizza, or walk the ramp, it's all possible all here. They get paid as well, with KidZos.
Dubai Ice Rink: It's one of Dubai's coolest spots where you can enjoy ice skating indoors. With some colorful and amazing skating aids available, this space is ideal for all including pros, beginners and first-timers.
VR Park Dubai: With the most advanced in Virtual Reality and Augmented Reality, this is especially created for gaming enthusiasts. You can look forward to take to its many innovative rides such as Burj Drop, Dubai Drone, Dune Bash, Plummet, and VR Balloon.
Ekart Zabeel: This is the UAE's first karting attraction with the most cutting-edge facilities. Found in the mall's Zabeel Extension area, it's especially noteworthy for its electric but environmental-friendly go-karts with zero emissions.
 Dubai Fountain Show: A distinctly unmatched experience awaits you at Burj Lake that is outside of the Dubai Mall and Burj Khalifa! Starting from 18:00 hrs every day and lasting till midnight, this spellbinding aquatic performance is in sync with light and music is definite to blow you away.
But, visit here even if you don't want to drop into any of above attractions as there are many other experiences and sights which are absolutely free and also make an incredible photo-worthy spot. This ranges from Dubai Dino and Human Waterfalls to Apple Store Terrace.
3-Visit Dubai's Newest Neighborhoods
In recent years, Dubai has become recognizable for its trendiest neighborhoods. Among the hard to miss in this department are Bluewaters Island and City Walk Dubai. While the waterfront location of Bluewaters Island blows you away with the highest of its Ain Dubai (observation wheel), the Middle East's first Madame Tussauds Museum etc, the City Walk Dubai is nothing short of a high-class European-style street, filled with giant street arts, hippest dining choices, and intriguing attractions like Green Planet, Hub Zero, Roxy Cinemas, and Mattel Play! Town.
4-Desert Safari
Taking a desert safari is a must for adventurists traveling to Dubai. It lets you see the infinite charm and serenity of Dubai's unspoiled desert landscape in its entire glory. Enjoy dune bash in a 4X4 vehicle (like Land Cruiser or Hummer), ride a camel, take to quad bike / sandboard etc on a morning desert safari. An evening desert safari is a bit more compelling with all these inclusions plus an elaborate BBQ dining session plus traditional entertainment shows by way of Tanura and belly dance performance. There is also overnight desert safari which gives you once-in-the-lifetime chance to camp amidst the desert sands.

5-Dhow Cruise
A relaxed dhow cruise along Dubai Creek or Dubai Marina is one of the most mesmeric ways to see Dubai's marvelously illuminated nighttime cityscape. Dependent on the cruise location you choose, the approximately two-hour cruise will glide you by the incredible and iconic sights that encompass the region. This ranges from Atlantis, The Palm and Burj Al Arab to the charming historical attractions across Dubai Creek area. Together with striking views, the cruise highlights also include dining within the rustic settings of the dhow plus live entertainment such as Tanura show.
6-Ski Dubai
Dubai is called the land of unbelievable wonders. And Ski Dubai is one of the many attractions that add to this Dubai moniker. Located within Mall of the Emirates, it's the Middle East's first indoor ski resort. If you're a first timer, don't miss it! From skiing and snowboarding to tobogganing and simply throwing snow, this is a dream place in the desert city to enjoy authentic winter or precisely snow activities. There are also many snow-inspired rides and cool experiences such as Penguin Encounter.
7-Burj Al Arab
This is one attraction in Dubai that is synonymous with opulence and majesty. Designed to resemble a classic billowshape, Burj Al Arab is the luxurious of all accommodations in Dubai and is considered the world's only seven-star hotel With the most expensive as well as lavishly decorated rooms, an entry here may be just for affluent. But you can definitely
glance into its mind-boggling décor by pre-reserving a table at one of its classy dining venues surrounded by the most stunning views along the coastline of Arabian Gulf. If you want to skip this altogether, it's alright but be sure to visit here and capture a selfie against this iconic Dubai structure.
8-Palm Jumeirah
Any visit to Dubai is complete without taking a drive around the classy sights across this gorgeous man-made island. The whole setting takes after an enormous palm tree enhanced by a crescent on its top. While you may have come across ubiquitous images of this legendary Dubai attraction, see it in real in its original grandeur on a helicopter or a thrilling sky diving tour. Moreover, you shouldn't miss the Boardwalk and Atlantis, The Palm with Aquaventure Water Park, Dolphin Bay, and the Lost Chambers Aquarium. Already been to these places? Then you've got a brand-new reason to visit here, thanks to the recently launched Palm Fountain which is the world's largest fountain show. You'll find this at the Pointe, Palm Jumeirah.
9-Al Bastakiya Quarter Souks
Absorb the authentic feel of being in the real Old Arabia as you walk down this quaint quarter in Bur Dubai area. Also known as Al Fahidi Historical Neighborhood, this 19 th century neighborhood is still preserved to its original state with its sand-colored buildings adorned with wooden courtyards and cooled over by traditional wind towers.
10-Dubai Parks and Resorts
From IMG Worlds of Adventure to Wild Wadi and Laguna Water Park, Dubai is home to some fantastic theme parks. If you're an extreme theme park lover, the unmissable of all is probably Dubai Parks and Resorts. The region's first integrated resort has a dedicated retail and dining section, several accommodation choices, and mostly, four parks such as Motiongate Dubai, Bollywood Parks Dubai and the kid-exclusive LEGOLAND Dubai and LEGOLAND Water Park.
With this post, we hope we've curated all top Dubai attractions and experiences which guarantee you an enriching vacation. So plan ahead and travel to Dubai; it's definite that you'll never forget this Arabian trip.